Lotus has revealed yet another preview of a mysterious new model suspected to be the anticipated 3-Eleven track day lightweight special, debuting at the Goodwood Festival of Speed this weekend.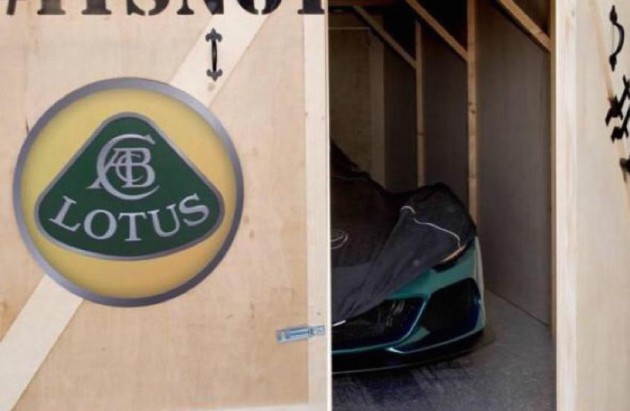 Pictures show a deep green monster, peering through a partially-lifted car cover, featuring hungry and wide air intakes and carbon fibre lip extensions.
The latest chapter in the succession of the 2007 2-Eleven and gorgeous open-wheeled 340R of 2000, the 3-Eleven is expected to feature the Toyota-derived 3.5-litre supercharged V6 from the Exige S, boosted to 313kW. This means it could have an engine twice the size and 70 percent more powerful than the 1.8-litre 2-Eleven.
While the larger powerplant precludes it from matching the 670kg weight of its predecessor, it should still be around the 800kg mark. Expect a sub 3-second 0-100km/h time and a 290km/h top speed.
Like the 2-Eleven, Lotus is likely to offer a roadworthy version at extra cost, featuring locks, lights and all the mod-cons needed to safely potter about for a Sunday drive.
This is one of many new models reportedly planned by Lotus, including a possible SUV further down the track. The SUV will apparently be up to 200kg lighter in weight than the Porsche Macan, and should be one of, if not the driver's car of the segment. Stay tuned for more updates.