We're all looking forward to the hot new Alfa Romeo Giulia QV, however, the Italian marque will also launch a range of regular petrol and diesel options as well. Details and images of such versions are yet to be officially revealed.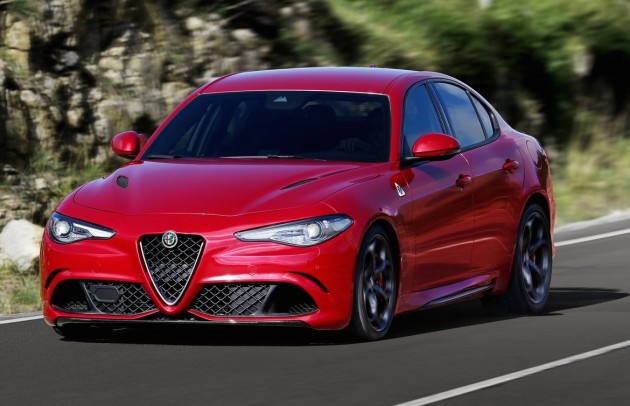 An apparent official spec sheet has now leaked online however, first appearing on the Alfa Romeo Project 952 Facebook page, showing the potential details of all other powertrain options that will be offered. They consist of a 2.0-litre GME T4 turbo-petrol four-cylinder, and a 2.2-litre JTDM turbo-diesel.
Kicking off the range is set to be a 147kW version of the GME T4, followed up by a 184kW version, and a range-topping 206kW model. These will be paired to an eight-speed automatic transmission, with all-wheel drive being an option for some.
For the JTDM diesel lineup, outputs will apparently span from 110kW, to 132kW, and up to 154kW. A six-speed manual and an eight-speed auto are set to be offered for various versions, again, with all-wheel drive optional for some.
Of course, at the top of the range will be the QV version (pictured above) which comes with a 2.9-litre twin-turbo V6 that churns out 375kW and 600Nm. It has already posted the quickest-ever lap time around the Nurburgring for a production sedan. By the looks of it, the QV will be offered with a manual, dual-clutch auto, and a slightly detuned conventional auto – possibly a lux version?
The new Alfa Romeo Giulia, which is a spiritual successor to the original Giulia of the 1960s and '70s, is expected to be a very well sorted mid-size sedan. It will take on the likes of the BMW 3 Series, Jaguar XE, and the Lexus IS in the very competitive segment.
Market entry is expected to take place during the later stages of 2016. If these specs are indeed official, the Giulia could turn out to be quite a popular vehicle given the supposed diversity of the range.