You might think this ute looks familiar. That's because it's based on the latest Mitsubishi Triton. Called the Fiat Fullback, it has just made its global debut at the Dubai Motor Show.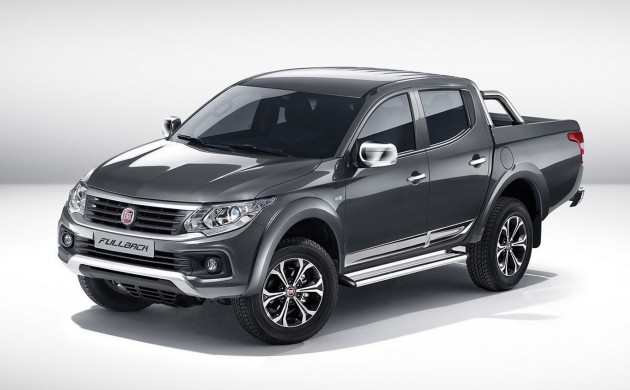 The Dubai Motor Show is one of the more prestigious events on the auto calendar, but Fiat has chosen the event to unveil its new workhorse. It's heavily based on the Triton, featuring various Fiat-exclusive design tweaks.
At the front is where most of the unique design trimmings are seen, with a horizontal black grille replacing Mitsubishi's vertical layout, and a revised lower bumper bar section. Cabin and tray areas are identical. The interior also receives only minor changes, such a unique Fiat-badged steering wheel.
This is the second new ute/pickup to be introduced by the Italian marque, following on from the smaller Toro revealed last month. The Fullback will be available in a wide range of body styles, with tray, single, crew, and double cab layouts carried over from the Mitsubishi product.
Unlike the Triton, the Fullback will be offered with a range of turbo-diesel engine options. There's a 2.4-litre and 2.5-litre unit, with outputs spanning from 81kW to 133kW. Two-wheel drive and four-wheel drive will be available.
The Fiat Fullback will go on sale in some European markets and in the Middle East during the first half of 2016. It's understood Fiat Australia isn't looking to offer the model locally given the Triton is already doing so well here.