Uber is on its way to take over the taxi industry in most capital cities, and is now extending to the smaller cities and towns. We have to admit, it is a great technology, giving car owners (with some spare time) the opportunity to generate a bit of extra income simply by driving people to where they want to go.
We've been speaking to a lot of Uber drivers lately and we're noticing a lot of drivers are enjoying the system so much, many have left, or put their careers on hold, to take up Uber driving full-time. So we thought we'd put together a list of our top 10 best new cars for Uber drivers, mixing in the most reliable, economical, and most interesting options available. In no particular order, these are the cars we would seriously consider if we were thinking of taking up the tech-age taxi service.
We've hyperlinked our review into the titles of most of the cars mentioned so you can read more about them. All prices mentioned exclude on-road costs.
Yes, the trusty Toyota Corolla has to be the first pick. It's known as one of the most reliable vehicles the world has ever seen, with a nameplate that's backed with 51 years of tried and tested heritage. The Corolla is often the world's best-selling vehicle annually too. For Uber drivers, the Corolla is practical and very easy to drive, making it perfect for long hours behind the wheel.
The latest model is powered by a 1.8-litre naturally aspirated four-cylinder producing 103kW and 173Nm. In six-speed manual form it offers an official fuel consumption average of 6.7L/100km, which is pretty good for the class but not the absolute best. Toyota has also packed in some more technology for the latest model, including a touch-screen interface for most variants, on-board apps, and enough safety systems to earn it a five-star ANCAP rating.
In our opinion the Corolla doesn't really stand ahead of any of its rivals in any specific area – it's not the most efficient nor the most powerful or the largest – but the sheer practicality and reliability, hard-wearing nature of all parts, and good average score in all areas makes it an excellent car for Uber drivers. We'd suggest going for the sedan body style as it offers a little more rear legroom, and a separate cargo area. There's also a hybrid option available (as pictured above [has blue-outlined badge]) that offers an average consumption of just 4.1L/100km.
BMW 330e – from $72,900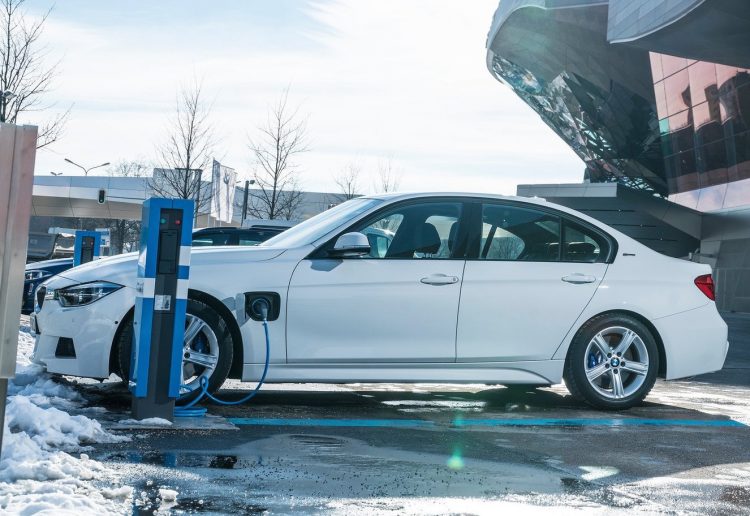 If you're a driving enthusiast and you're thinking about becoming an Uber driver, the BMW 330e is a great option. Based on arguably the greatest driver's car in the mid-size luxury sedan segment, the 330e is part of BMW's new iPerformance family. It features a 2.0-litre turbo-petrol four-cylinder engine producing 135kW, paired with an electric motor that seamlessly adds 65kW and 250Nm. Combined output is rated at a decent 185kW.
More importantly, the official average fuel consumption is just 2.1L/100km. How is it so low? Well, the 330e is able to drive on electric power alone at low speeds, completely doing without the petrol engine. As a bonus to driving fans, the 330e offers a very decent 0-100km/h sprint time of 6.1 seconds. It also incorporates a proper eight-speed automatic transmission with rear-wheel drive, so it can be a lot of fun to drive. Prices in Australia start at $71,900, which isn't too bad for a premium mid-sizer (for Australian prices anyway). Uber users will no doubt enjoy being driven around in nice new BMW, likely garnering you plenty of five-star ratings. Obviously this recommendation is for those who happen to be in the market for a new car, and not just for Uber driving.
The Outlander is easily one of the easiest and most practical mid-size SUVs in the class. It is a bit basic, with no real frills in any particular area, but like the Corolla, not being complex means there's less to go wrong. Passengers will enjoy the large cabin, with excellent rear seat space and a big cargo area (477L/1608L rear seats folded), while the dash and centre console provides lots of storage space for drivers to offer water bottles and mints and so on.
Mitsubishi Australia has just announced the new PHEV plug-in hybrid variant which presents an average fuel consumption of just 1.7L/100km. There's also 2.5-litre petrol (7.2L/100km) and 2.0L (6.7L/100km) options, and a torquey 2.2-litre turbo-diesel (6.2L/100km), with both front- and all-wheel drive layouts. As a bonus, the Japanese brand provides the reassurance of a five-year/100,000km warranty. Prices start at $28,750 for the base model manual.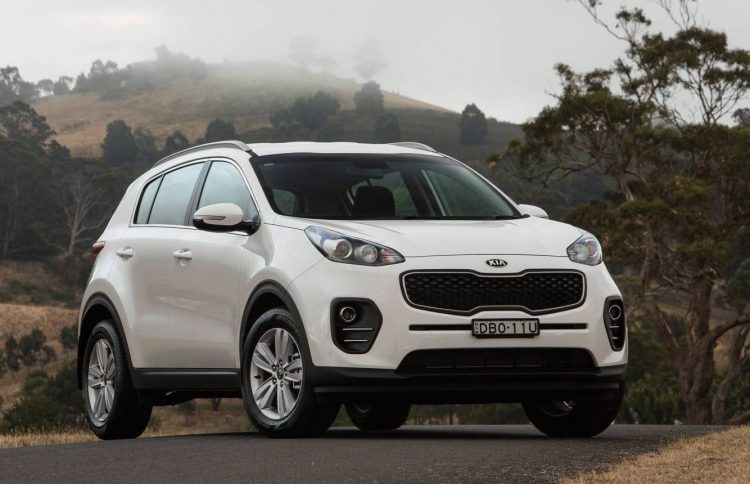 Kia's latest mid-size SUV not only shows off a nice-looking design, it's also very well packaged featuring a touch-screen interface, some clever storage options, and the cabin boasts great headroom and legroom for front and rear passengers. One of the best aspects in our opinion though is the interior quality. For this market space, the interior of the Sportage is right up there with the best of them. Almost all touch surfaces and most materials have a distinct quality to them.
Buyers have the option of a 2.0-litre petrol producing 114kW and 192Nm, paired with front-wheel drive to offer an official average fuel consumption of 7.9L/100km. For those wanting better economy, there is a 2.2-litre turbo-diesel option available generating a punchier 136kW and 400Nm. It's only available with all-wheel drive, but even so, fuel economy is rated at just 6.4L/100km. Being a Kia also means it comes with the piece of mind of an industry-leading seven-year warranty.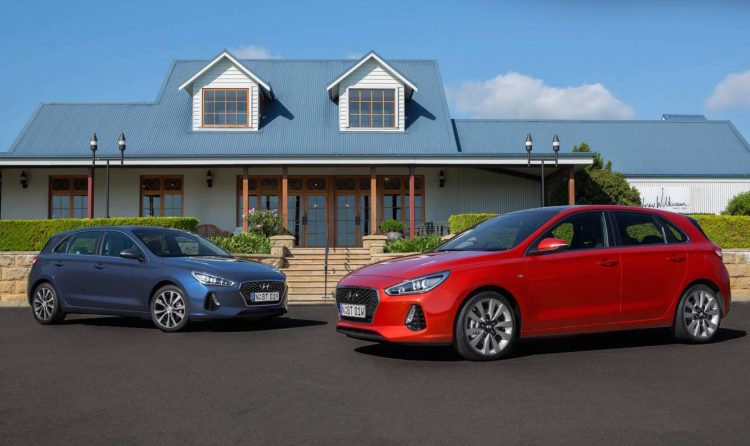 The i30 is one of the best-selling cars in Australia at the moment, and the third-best selling hatch in the small car class. Hyundai has just introduced the new generation model, promising improvements in almost all areas. Inside and out, the new i30 has a much more up-market look and feel, making it more appealing to own.
It's also a very nice car to drive in terms of on-road dynamics. Hyundai Australia had engineers tune the car specifically for local conditions, which means the ride and handling are tailor-made to suit our roads. Power comes from a 2.0-litre four-cylinder producing 120kW, making it the most powerful base model hatches in the class. There's also a sporty SR turbo variant priced from just $25,950, representing extraordinary value for money.
Toyota Camry Hybrid – $26,490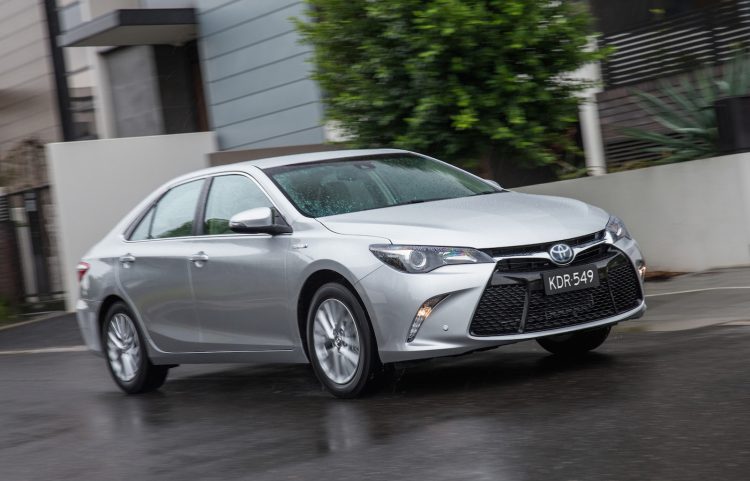 It's the new car of choice for taxi companies and drivers, and for good reason. The Toyota Camry is a staple product in the modern world, taking thousands of Australians where they need to go, every day. And without failing. Toyota is renowned for offering bullet-proof reliability, and the same philosophy is applied to the Camry. You can also think of the Camry as a bigger, roomier version of the Corolla. So it's still very easy to drive and park, and it's perfectly comfortable even after long hours behind the wheel. Your customers will also appreciate the boundless headroom and legroom in the back.
For the latest model Toyota is offering its advanced hybrid powertrain option on all variants in the range. This means even if you only want the base model Altise, you can still option for the hybrid. In Australia the most affordable Camry is the Altise, priced from $26,490. The hybrid option requires an extra $4000. But you needn't worry as this will pay off in no time, especially if you spend a lot of time Ubering in the city. The official consumption is 5.2L/100km, and in our tests we have seen figures as low as this in the real world, which is quite a feat.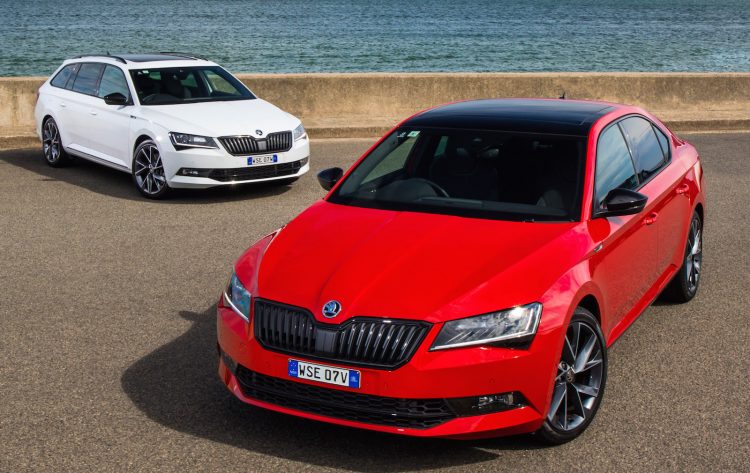 You might not have heard of it before be we think you ought to know more about the latest Skoda Superb. It sits in the same market segment as the departing Ford Falcon and Holden Commodore, only it's built under the Volkswagen Group umbrella. Skoda prides itself on innovation and clever packaging. So in the Superb, there's loads of storage options around, cool little lined bins in the doors, cup holders galore, and of course great connectivity with multiple charging ports around the cabin. You can also get it in sedan and wagon form, and with petrol and diesel power.
We wouldn't say it's as large as the Falcon or Commodore, but it's very close. We'd put it in between the Camry and Commodore in terms of cabin space, which is plenty. And like the Aussie favourites, the Superb comes with a powerful engine in all guises, but it doesn't come with the heavy fuel consumption. The base model use a 2.0-litre turbo producing 162kW and 350Nm (from the Golf GTI), sipping just 6.4L/100km on the combined cycle. It'll liven up your day with its fun-loving driving feel, and the low-rev torque impressively pulls you and your passengers up hills and through traffic like a boss. It's a great car. It's just a matter of taking the plunge and trying something different.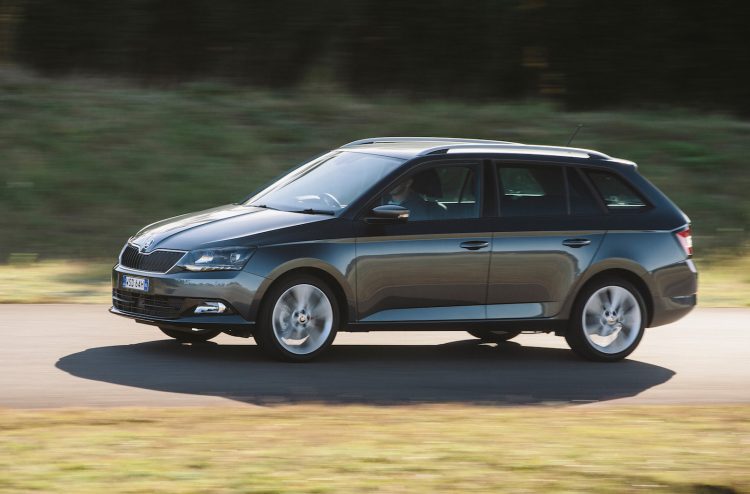 Now here is an interesting little number that we think is perfect for Uber driving, especially in busy cities. It's called the Fabia, and it's built by the same Volkswagen-owned company as the Superb listed above. Underneath it all is a Volkswagen Polo, including the engine, transmission, chassis, and major suspension components. But unlike the Polo, the Fabia is available in wagon form. Yep, a cute little wagon.
You can check out our review of the 81TSI wagon in the link above for more information, but basically we think this is such a cool little car that if we were Uber driving we'd probably go for one of these. It's fun to drive, has all of the clever packaging of a modern Skoda, the dash and controls are immediately understood, and built with excellent quality and attention to details, and there's a touch-screen interface as standard. Best of all, the 1.2-litre turbo-petrol four-cylinder merely sips fuel, at an official average rate of 4.8L/100km.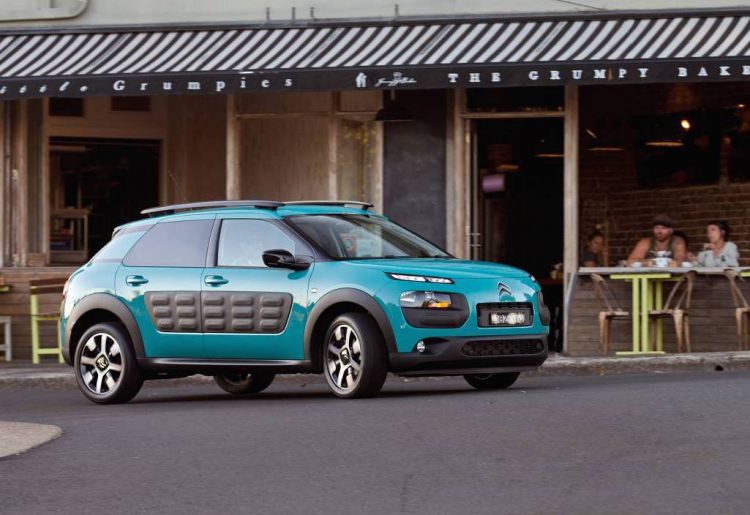 Okay, so this is probably going to be the most left-field in this list. But if we were spending heaps of time behind the wheel than we already are, we'd probably want to drive something that is interesting and fun. And the Citroen C4 Cactus is one of the most fun and interesting cars on the market in our opinion. Well, in the under-$30,000 market space anyway.
Yes, it looks quirky, but take a seat inside and you'll feel like you've just sat down in a modern living room. The automatic-only diesel version comes with a bench seat in the front, which is so cool, and even the manual-only gets similar chairs that would seem quite at home in your… home. It's not just the seats though. The engines are unbelievably fuel efficient in the real world, with our real-world tests seeing as low as 3.9L/100km for the diesel. The manual-only petrol is right behind, recording around 5.5L/100km in the real world. Officially, the 68kW 1.6 turbo-diesel consumes 3.6L/100km, and the 1.2 turbo-petrol three-cylinder consumes 4.7L/100km.
In either case, the engines buzz along with such happiness, while the cabin is feature-packed, with a standard touch-screen interface, USB ports, and being an SUV (really a crossover) you get the practicality of a hatch at the back with good cargo space. There's also the famous AirBump exterior panels to protect the body from minor bumps and bruises in the city. We can't stop banging on about how awesome these cars are.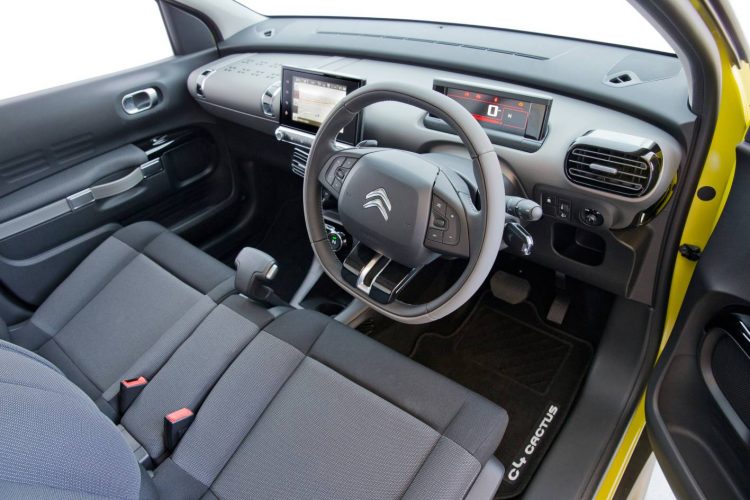 Kia Picanto – from $14,190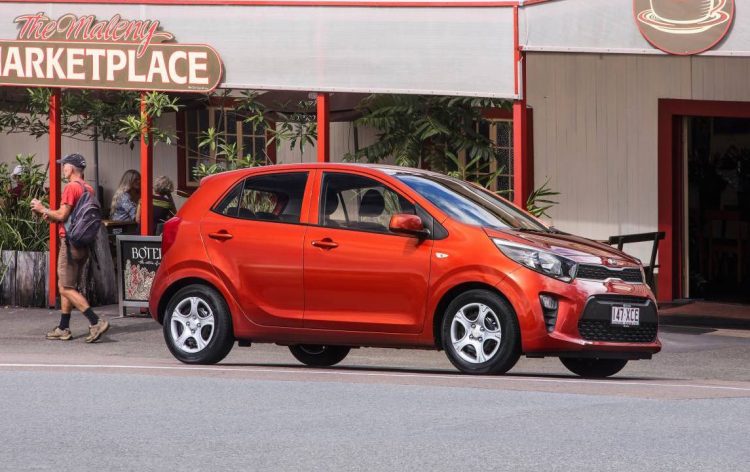 Lastly, we have to mention the cute little Kia Picanto. With a starting price of just $14,190, it can be impossible to resist, especially if you're buying a new car purely for the purpose of starting up Uber driving as a full-time or part-time job; you aren't likely going to want to spend big bucks on a car only to have to pay it all straight back.
Kia recently introduced a significant update for the Picanto – it's smallest model – bringing in some impressive technology and connectivity for the often tech-neglected vehicle class. So, you get a touch-screen interface. Yep, a touch-screen just like on the bigger and more expensive cars. This includes various in-built apps, including Apple CarPlay and Android Auto which lets you pair your smartphone and mirror almost all of its apps onto the screen, essentially giving you sat-nav and media playing functionality. Being so small, it's also going to be easy to nip around the city and to park.
Buying a new car? We can help you beat the dealers and potentially save you thousands. Click here for a free, no-obligation quote through our car buying service.