Isuzu has brewed quite a success story for itself since introducing this generation D-Max and MU-X back in 2012-2013. These have become very popular options for car buyers who want a tough and somewhat primitive workhorse or family-friendly off-road adventurer.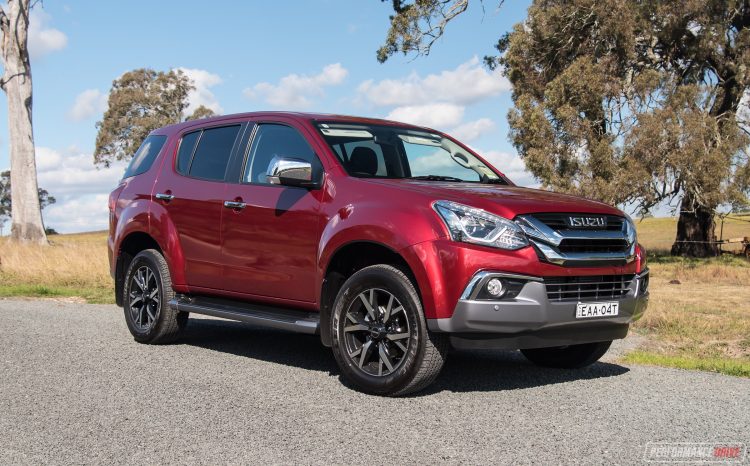 The MU-X went on sale in 2013 and has since received a string of minor updates, almost every year. 2019 brings another refresh. Yes, some would say the model is getting long in the tooth some six years later, but this SUV wouldn't appeal to those who like the latest and greatest anyway. It suits buyers who like basic but strong build and proper off-road capability.
The 2019 refresh brings an updated interior, minor changes to the exterior, added safety tech, steering system changes, and an increased warranty program to an impressive six years – way to show up the market leader, Toyota, who recently brought in five years. The lineup is still straight forward, with the entry-level LS-M, the LS-U, and the range topping LS-T. For each, 4×2 rear-wheel drive or optional part-time 4×4 setups are available. Sadly for some, a six-speed auto is the only option – no more manual gearboxes. All variants are paired to the same 3.0-litre four-cylinder turbo-diesel engine as before.
Today we're mainly testing the top LS-T variant, but we recently had the mid-spec LS-U for an extensive video we did. So, we'll try and cover it as well. At the start of the range the MU-X LS-M 4×2 starts from $42,900. The LS-U 4×4 kicks off from $52,600 while the LS-T in 4×4 configuration will set you back at $56,400 (excluding on-road costs).
2019 Isuzu MU-X LS-U 4×4 – THE SPECS
Engine: 3.0-litre turbo-diesel four-cylinder
Output: 130kW@3600rpm / 430Nm@2000-2200rpm
Transmission: Six-speed auto
Drive type: Part-time RWD/4WD
Wheels: F & R: 18×7.0, 255/60
ANCAP: Five stars
Tare weight: 2095kg
Power-to-weight: 16.11:1 (kg:kW)
Official fuel economy: 7.9L/100km
Economy during test: 8.6L/100km
Fuel capacity/Type: 65L/Diesel
Power efficiency: 16.45kW:L/100km
0-60km/h: 4.40 seconds*
0-100km/h: 10.47 seconds*
60-110km/h: 8.52 seconds*
1/8 mile: 11.21 seconds at 102.9km/h*
1/4 mile: 17.47 seconds at 128.4km/h*
Max acceleration: 0.673g
100-0km/h braking: 3.31 seconds at 39.99 metres*
Max deceleration: -1.102g
Decibel at idle: 51*
Peak decibel at 60-100km/h: 85*
Priced from: $52,600 (LS-T: $56,400)
* Figures as tested by PerformanceDrive on the day. Factory claims may be different

2019 Isuzu MU-X LS-U and LS-T – THE PACKAGE
Isuzu as a brand is famous for making strong and hard-working trucks. So why not apply that in some passenger vehicles too? The idea that you can purchase a robust and dependable SUV without the confusing bells and whistles is crucial to some buyers (and fleet companies). Especially in a world where everything seems to be built to a price.
All MU-Xs come with cruise control, reverse parking sensors, an eight-speaker sound system with Bluetooth connectivity, a reversing camera, rear parking sensors, two USB ports in the front row and one in the second row, a leather-wrapped steering wheel, hill hold assist, hill descent control, LED daytime running lights, and of course, a full-sized steel spare wheel.
Going for the LS-T gains climate control, proximity key central locking, a DVD player in the second row, electric driver's seat, sat-nav, fog lights, push button start, ambient interior door lighting, partially leather seats, and unique 18-inch alloy wheels. The mid-spec LS-U also comes with 18-inch wheels.
For the 2019 update, the exterior has had facia alterations at the front and rear, and the interior gets glossy black panelling in the dash and doors. Overall, it still gives off that brute appeal, although a bit basic and… let's say hard-wearing.
The seats provide acceptable levels of comfort, although they could offer slightly more lumbar support. It's worth noting that the steering wheel is not telescopically adjustable, which means it can take some time for find a natural driving position. If you can find it at all. If you're after an SUV for the high-seating position, the MU-X offers this. You sit tall above other cars or the rough terrain around you. Visibility is excellent, and thanks to the 2019 update there is blind-spot warning for added peace of mind.
You're spoilt for space and storage solutions throughout the entire cabin in the MU-X. There are 12 cup holders in total (we counted), and Isuzu counts 18 storage pockets that are scattered throughout. That includes a pocket on the centre of the dash that doesn't always open when you push the button.
Seating space is very good for this class, with ample legroom for the middle row and decent room even in the third row. There is a step down for your legs in the third, helping with comfort, along with cup holders and grab handles. In these variants, all passengers are presented with climate vents in the ceiling, for all three rows, and there is a level of 'climate control' (a temperature adjustment).
At 1830 litres with the rear seats flat, the boot space compares well to the Toyota Prado's 1833 litres and surpasses the Mitsubishi Pajero Sport's 1624 litres. Even with the third row seats in place there is still a praiseworthy amount of storage space leftover (235 litres). And, flat-fold seating creates an ideal load area for large items. There's also a plastic storage box making up the last portion of the boot floor, which is perfect for wet or grubby items.
Servicing intervals have been increased from 10,000km to 15,000km, or 12 months, and Isuzu offers capped-price servicing. You can gain some assurance with running costs, and the warranty is now an impressive six years or 150,000km.

2019 Isuzu MU-X LS-U and LS-T – THE DRIVE
Under the bonnet the engine is unchanged, which means a modest (for the class) power output of 130kW and 430Nm of torque. On the road, the MU-X is a tad underwhelming when you need to pick up speed quickly. The full 130kW doesn't come into play until the engine is rattling at 3600rpm. It falls out of its narrow maximum torque range quite quickly, as it's only spread from 2000-2200rpm. Ideally, this large four pot doesn't really like to rev (not that many diesels do). So instead it's more comfortable to just cruise.
The vehicle is over two tonnes, so there is a lot of metal to get moving. However, going up steep inclines with a load tells a different story. It pulls and holds onto the higher gears confidently. It also automatically down-changes during downhill driving, which should really come in handy when towing. Especially with that big-capacity four-pot engine providing strong compression braking.
Noise and vibration levels are still quite high, particularly when the engine is cold or revving above around 2800rpm. Beyond that, a truck-like rough diesel engine really starts to rumble. We notice that the engine does seem noisier than most of the rivals. This is perhaps due to the larger pistons, but in saying that even the 3.2L (albeit five-cylinder) Ford Everest seems quieter and smoother, particularly higher in the revs.
Sadly, if you crave a manual gearbox you'll need to look elsewhere. But, the six-speed auto does a great job at finding the right engine spin for the conditions – on or off road. It also helps to achieve a respectable towing capacity of 3000kg. This is just behind the Mitsubishi Pajero Sport auto 4×4 (3100kg) but the same as the Toyota Prado VX auto. The gross combination mass of 5750kg is also appealing; 2142 kerb weight (LS-U) plus 3000kg, leaves 608kg for passengers and cargo.
Official fuel consumption figures rate the MU-X at 7.9L/100km. Our average hovered around 8.6L/100km during our test. Considering the size of the MU-X, the fuel usage isn't too bad. The fuel tank only holds 65 litres, translating to a theoretical average range of 823km. This may be an issue for hardcore adventurers who travel greater distances between refills.
The hydraulic steering system has been tweaked for 2019 to offer a smoother and lighter drivability at low speeds, while maintaining its stable and sturdy feel at higher speeds. We're impressed by the positive feedback and steering control regardless of the terrain or speed you're travelling at. Although the MU-X conveys truck-like strength, the steering is well mannered and effortless to keep in the lane.
True rugged off-road performance is demonstrated with all 4×4 models, as they are equipped with a 2mm steel front skid plate, steel sump and transfer case guards, and protection for the front end of the fuel tank. All 4×4 variants offer 230mm of ground clearance, too. This is about average for this class. However, approach and departure angles are creditable, at 24 and 25.1 degrees, respectively.
A five-link suspension arrangement at the rear with coil springs and stabiliser bar provides generous wheel articulation when negotiating deep off-road ditches, but also provides significantly more comfort and ride quality over the leaf-sprung D-Max on which it's based. The front end uses a MacPherson strut like most rivals.
All variants of the MU-X are armed with Hill Descent Control which assists in maintaining a constant low speed during hairy descents. The 4×4 models are fitted with a dual-range 4×4 terrain command system that is dial operated. The high-range 4×4 mode can be selected on the go at up to 100km/h, although it is only suitable for loose surfaces as there is no centre differential. To select low range you need to bring the vehicle to a complete stop.
We didn't attack the most serious off-road tracks, but we get the feeling the MU-X will live up to many family's off-road requirements. It's robust, sure-footed, and well prepared. However, Isuzu has switched to a highway terrain tyre for the 2019 model. We'd suggest you get these swapped for something more aggressive if you're planning regular off-road adventures.

2019 Isuzu MU-X – THE VIDEOS
2019 Isuzu MU-X LS-U and LS-T – THE VERDICT
The minor update for 2019 attempts to keep the MU-X modern and competitive. But there are many popular new technologies that have been left out, especially safety tech, which is a bit disappointing. Features like adaptive cruise control and autonomous emergency braking aren't available.
However, a market exists in the automotive world today where there are buyers who may have been disheartened by experiences with durability, or they just don't like the thought of buying a car with features they don't need. And for that market, the MU-X is the ideal candidate.
PROS:
– Strong Isuzu build means truck-like reliability and off-road strength
– Tall seating provides great visibility
– Now covered by 6-year warranty
– Very practical and user-friendly cabin
– Big 3.0L engine is good for towing
CONS:
– Lacks modern features and safety tech
– Noisy/clattery engine
– Some overly basic or crude switchgear inside
As always, if you're thinking about buying a new car don't forget to click here to speak with our car buying specialists.