The first teaser of the new Tesla Model Y has dropped for the very first time, showing a dark silhouette of the front end. It will slot in as the company's new small/medium SUV.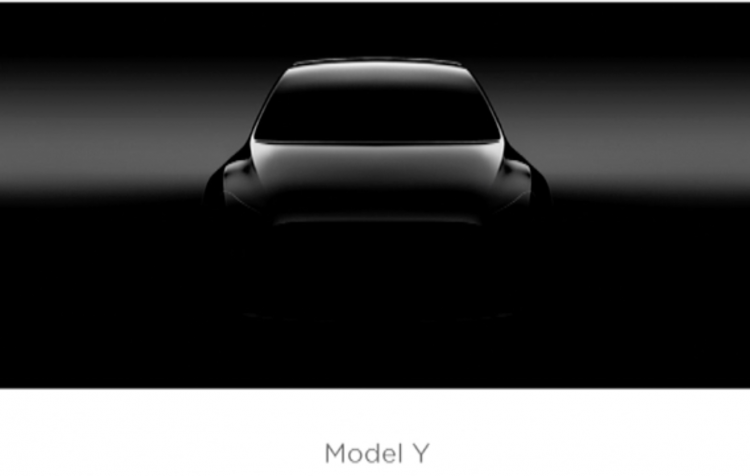 Originally set to be based on the incoming Model 3 mid-size sedan, it's now understood the junior Model X will be based on an all-new platform. According to an Electrek report, the Model Y could be revealed some time in 2018.
Company boss Elon Musk has said the new crossover will hit the market in late 2019 or early 2020. But given the huge orders the company has to fill for its other models, we suspect it will be the latter rather than the former.
The teaser was shown during a shareholder meeting, giving investors an idea of things to come for the ambitious echo-car maker. In fact, Elon Musk apparently said he expects the Model Y to become more popular than the Model 3 – remembering the Model 3 accumulated around 370,000 orders not long after it was unveiled.
For the new platform Tesla is set to switch from a 12-volt lead-acid battery structure to a new system, which is said to reduce wiring and improve production efficiency. On that note, Musk has said the Model Y will be built on a completely new production line, different to any other process currently in the industry.
Judging by the teaser image, the Model Y will take the shape of other vehicles in the showroom, especially the Model 3 in our opinion. The front guards and headlights seem to mesh together in a similar way to the Model X, but the bonnet lines and windscreen shape appears very close to the Model 3.
Interestingly, there are no side mirrors, which suggests the Model Y will have extensive autonomous driving capabilities. By the time it's released, it will probably be capable of being a completely driverless car.