Audi has been spotted testing a prototype version of the upcoming 2020 Audi RS 7 at the Nurburgring, pushing hard with its potent powertrain. It's set to come in as the most powerful Audi Sport model ever.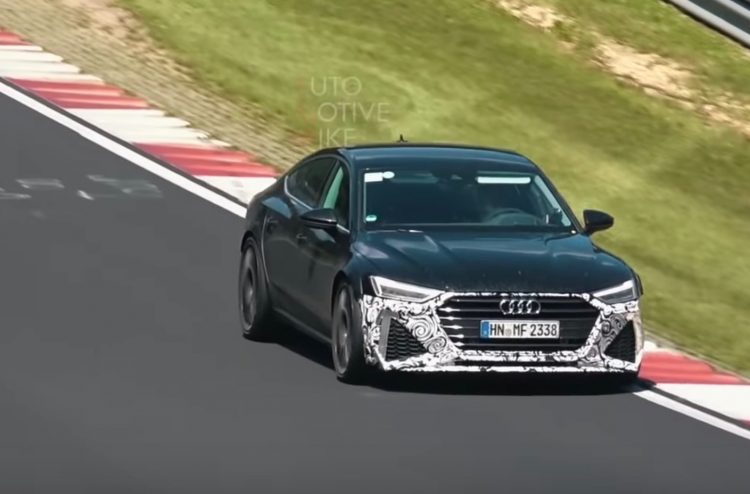 According to reports, Audi will be offering two versions of the RS 7. The regular RS 7 is expected to come with a 4.0-litre twin-turbo V8 as seen in the Porsche Panamera Turbo and Lamborghini Urus, producing around 450kW. An RS 7 Performance variant is also set to join the range, featuring hybrid tech.
You may have heard of the Porsche Panamera Turbo S E-Hybrid. Well, there's talk that its powertrain could be shared with the RS 7 Performance. In the Porsche is a 4.0-litre twin-turbo V8 that generates 404kW, paired with an electric motor of 100kW flavour. Combined, the output is an amazing 500kW and 850Nm.
With this latter hybrid setup the 2020 Audi RS 7 Performance could shave its 0-100km/h time down to around the 3.5 seconds mark. If so, it'll come in as one of the quickest Audi production vehicles ever, and certainly the quickest four-door model.
Following in the footsteps of the recently-launched A7, the new RS 7 will jump to the Volkswagen Group MLB Evo platform which is shared with vehicles such as the Porsche Panamera, Bentley Bentayga, and Lamborghini Urus. With this platform, the external dimensions shrink slightly, standing 5mm shorter, 3mm narrower, but 2mm taller than the predecessor. But, the wheelbase is 12mm longer, helping to open up cabin space.
As you can see in the video below, the next RS 7 will showcase a wide-body aero kit to help separate it from the regular A7. The prototype features pumped out wheel arches, a very wide and aggressive front end and big intake mouth, and a neat diffuser at the back complemented by an adaptive spoiler.
The new RS 7 will be one of many new RS models to be launched by Audi, as it plans to expand its RS range from 11 to 16 cars by 2020. The RS 7 is likely to be launched next year, with an unveiling potentially taking place very soon given the lack of camouflage on this prototype. Check it out below.