A new MINI Vision concept, set to inspire a future MINI Cooper, has been unveiled at a Design@Home event in Munich, Germany. The concept showcases traditional Mini traits as well as blending in futuristic and innovative cues.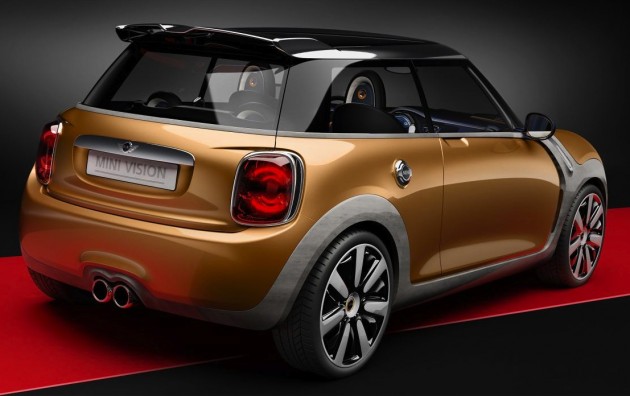 From the front, the iconic circular headlights are more angled than ever for a drawn-back sporty look. The globes themselves are LED with an encompassing light ring which runs as daytime lighting.
Moving back and you can see the traditional separated two-tone roof design with a chrome strip highlighting the separation point. A black trim runs along the pillar in modern MINI fashion.
At the back you can see the cute proportions are made more modern compared with the current production Cooper, with muscular shoulders, a curvy bumper bar, and an air-channelling roof spoiler. There's also a traditional centre outlet exhaust poking out from the underside.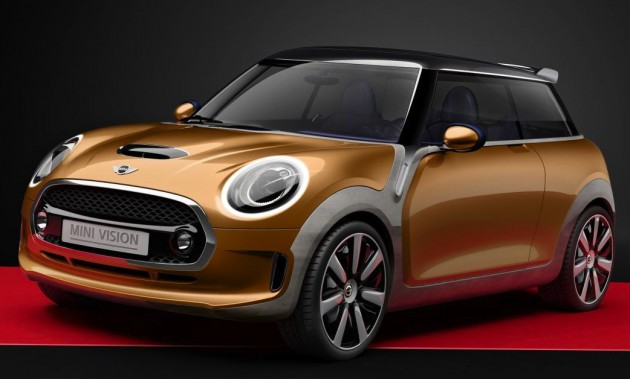 Not only does the concept look very modern and sporty, it's also made using advanced technologies and materials. Some of the panels, for example, are made from 'organo metal' sheets. MINI explains,
"This extremely mouldable but also very strong material is produced by pressing various fibres into a composite. Organo sheets have a unique texture comparable to that of fabrics."
With these materials, the car is light in weight, which benefits both fuel economy and performance. Aerodynamic qualities are also poured into the philosophy of the car, with air outlets behind the front wheels maximising airflow, and special alloy wheels and side mirrors which guide air around the car.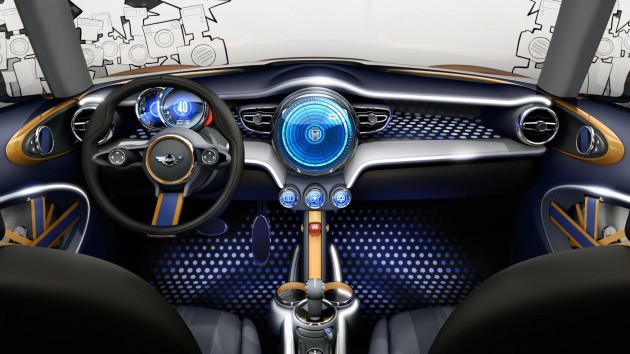 Inside, the cabin is just as impressive as the exterior. There's a 'floating' centre console area, intricate detailing and fixtures, an open and airy atmosphere, and unique fabric straps on the door trims in the shape of the Union Jack.
The next new MINI Cooper production car is set to be unveiled later this year.