Customer deliveries of Tesla's long-awaited Model X fully-electric SUV will commence in three to four months, the Palo Alto-based electric vehicle manufacturer has confirmed.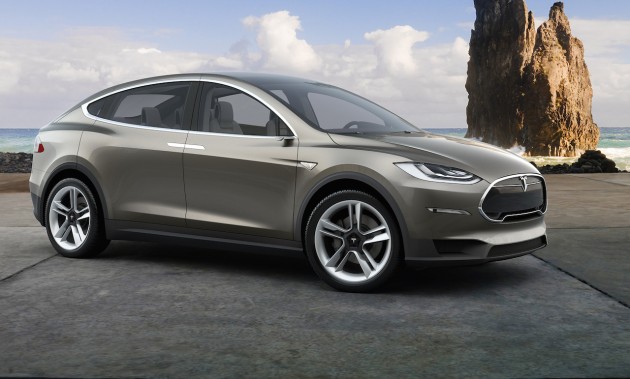 It will use various components from the Model S sedan, however, company CEO and founder Elon Musk has proclaimed that it "will be a better SUV than the Model S is a sedan".
First shown in 2012 as a concept, the Model X was initially scheduled to enter production in 2013. One year later, that was pushed back another year as the company sought to concentrate on achieving profitability that year and the volume target of 20,000 Model S sedans. The vehicle's futuristic 'Falcon Wing' roof-hinged rear doors also caused headaches, which is why it was pushed back again to 2015.
Tesla has also been very busy with its enormous 'Gigafactory' battery production facility, and Powerwall home battery system.
The Model X is an electric full-sized crossover, targeted at BMW X5, Audi Q7 and Mercedes-Benz GLE customers. It will feature all-wheel drive as standard, with a full-charge driving range pegged to be around 400-430km.
It's set to come with two electric motors at the top of the range, providing a potential combined power output of over 500kW. This could be the most powerful production SUV on sale. Other more sedate versions are likely to make up the lineup, similar to the Model S sedan.
Customers who placed a deposit on their Model X more than three years ago can expect deliveries in the third quarter of this year. According to the Australian Tesla website, local buyers can expect the Model X late in 2016.