SUVs are fast becoming the most popular vehicle segment. Why? Well, we think it's because they are just so versatile. They often meet a number of customer demands, all in one package.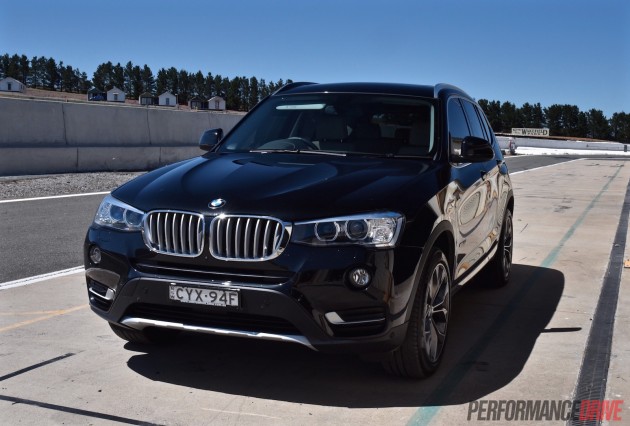 Take the BMW X3 xDrive30d as an example. Its economical turbo-diesel engine is powerful enough to see 0-100km/h done and dusted in just 5.9 seconds, yet, it offers respectable enough ground clearance so you can get through adventurous rugged all-terrain conditions.
The ground clearance also brings that must-have high-riding driving position, but on the contrary, it seems to handle like a much lower sedan or even sports car. Does it really though? We thought we'd put the theory to the test by taking the X3 out onto the track to see what sort of lap time it could produce, thanks to GP EXEC private track days.
We conducted about 30 laps on Wakefield Park Raceway with the X3 and it responded quite positively. The brakes held up the entire time, and the sure-footed handling made it rather enjoyable to fling around. Escaping from corners was also made easy thanks to the 560Nm of torque on offer, along with the constant all-wheel drive system doing its thing to maximise grip.
At the end of the day we checked our VBOX Sport to see what was the quickest lap. It was 1:16.73, putting it in perfect line with sports cars like the Toyota 86 manual (1:16.2), and just ahead of the Hyundai Veloster SR Turbo manual (1:17.5). We think the X3 could perform even better if it weren't for the run-flat tyres which seemed to overheat sooner than expected.
Obviously the BMW X3 isn't the only SUV on the market that can steer and go like a sports car; there are a number of models available on the market at the moment. In fact, the distinction between SUVs and cars is becoming more and more blurred, with both vehicle layouts overlapping now more so than ever before.
If you're considering buying a new SUV, we say, go for it. They aren't the petrol-guzzling, oversized monsters that they used to be, that's for sure. And you can select between a wide range, with some skewed for off-road performance and others specialising in on-road ability.
Check out our track test video below to see how the X3 performed on the track, and be sure to get our car buying team to find you the best price on a new SUV.