This is not the way to earn yourself brownie points with a Lamborghini salesman for discounts. During a test drive stint in Sydney yesterday, a driver lost control of a stunning white Lamborghini Gallardo worth around $400,000, crashing it into a barrier on the side of the road.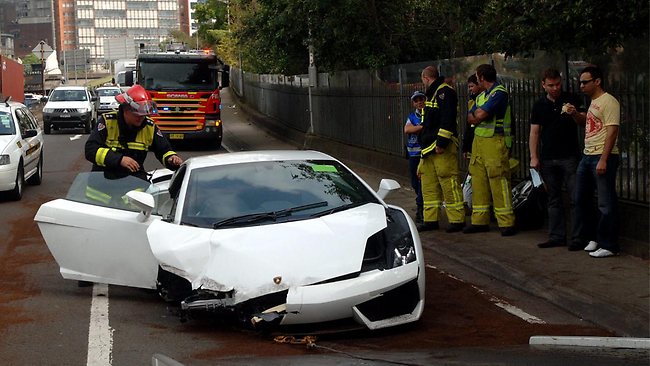 As you can see from this image, recently published in News Limited reports, the crashed Lamborghini Gallardo suffered some extensive front end damage to the lower front bumper bar, pushing the bonnet up and completely sheering off the front wheel. The windscreen appears to be intact, while the doors and roofline appear to be undamaged.
The Lamborghini Gallardo crash occurred on Saturday morning at around 9am on Macquarie Street. Lamborghini salesman Ian Watts was riding in the passenger seat at the time of the test drive with a potential customer. Obviously the mighty V10 Gallardo was a bit like a raging bull to the prospective buyer.
Police haven't said if the man driving was doing anything wrong at the time of the Gallardo crash, although investigations are continuing, including talks with witnesses, to discover what caused the accident. Rocks LAC duty officer Inspector Mihos said in the reports,
"Cars don't normally crash into barriers. There are witnesses police are still to speak with and, pending those inquiries, we will determine what action is taken."
Meanwhile, the Lamborghini dealership doesn't seem too upset about the crash. Lamborghini Sydney managing director Andrew Smith said that the Lamborghini Gallardo was insured at the time, and believed the man was not speeding or anything at the time and that he would not have to pay for damages. Mr Smith said,
"It appears he panicked – these things happen. It doesn't matter as long as no one was doing anything stupid or crazy, and no one was injured."
It's always a massive shame to see beautiful exotics like this being destroyed. We can only imagine what the insurance excess was.
(Source: News Limited)
Also check out:
– Lamborghini Aventador crash driven by car journalist
– Lamborghini Gallardo finds golf course sand bunker
– Lamborghini Gallardo catches fire in Malaysia