More details of the new Honda NSX have been released from sibling brand Acura, with various mechanical components now confirmed.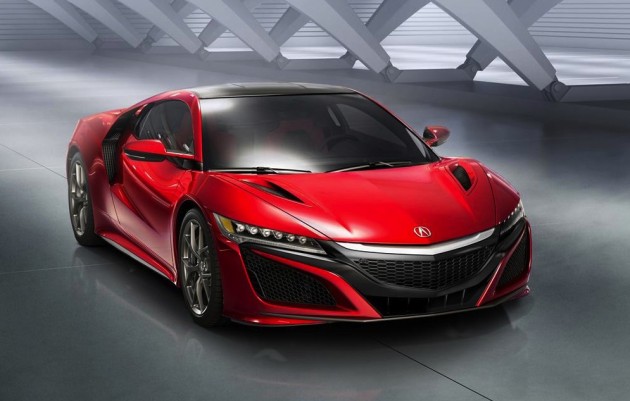 The NSX will be powered by a hybrid powertrain, which we already know, but now Acura has confirmed this will be made up of a 3.5-litre twin-turbo V6 (previously unknown capacity). Paired to this is an electric motor mounted at the rear, in between the gearbox and the V6, with two additional electric motors mounted at the front for both front wheels.
Specific outputs are yet to be confirmed, however, it will offer "over 410kW". It's also been confirmed the combination is matched up to a nine-speed dual-clutch transmission. The overall system will use two intercoolers, three radiators, and ten other heat-exchanges to maintain optimum operating temperature. Speaking at the SAE 2015 World Congress and Exhibition, Ted Klaus, chief engineer of the new NSX, said,
"Out goal is to create something altogether new and exciting, something that advances the concept of a new generation supercar in the spirit of the original NSX. In order to provide NSX-level value, we needed to push ourselves to experiment with, refine and then realise many new technologies."
Some of the interesting technical details include a world-first use of three-dimensionally formed, ultra-high-strength steel A-pillars, a world-first ablation casting technology for ultimate body rigidity, and the highest torque capacity all-wheel drive system Honda has ever made.
Honda Australia has confirmed the new NSX will make its way to local shores, likely next year. It will compete with the likes of the BMW i8, and other high-end super sports cars like the Porsche 911 and even the Ferrari 458 to some degree.