The countdown to Summernats 31 is on. Car entry applications are now closed, and the full schedule of events has been confirmed.
Earlier this month a new three-year agreement was signed with the ACT Government, locking in the event for the future. The event is regarded as one of the biggest tourism events in Canberra, bringing in around $25 million to the local economy every year. Speaking at the launch event earlier in December, Summernats co-owner Andy Lopez said:
"We couldn't be happier to hear the ACT Chief Minister announce this today. The ACT Government has been proactive and engaged in the way they deal with us. There are a number of initiatives that will be rolled out over the next 24 months in conjunction with the Government that will help us continue to add value to the event in the future."
If you missed the main round of entry applications, Summernats organisers are giving fans a final last-chance entry on January 5. It will be open from 7am to 1pm – this is for those looking to enter vehicles, and not for general admission. Entrants need to proceed to gate 7 and follow direction from staff.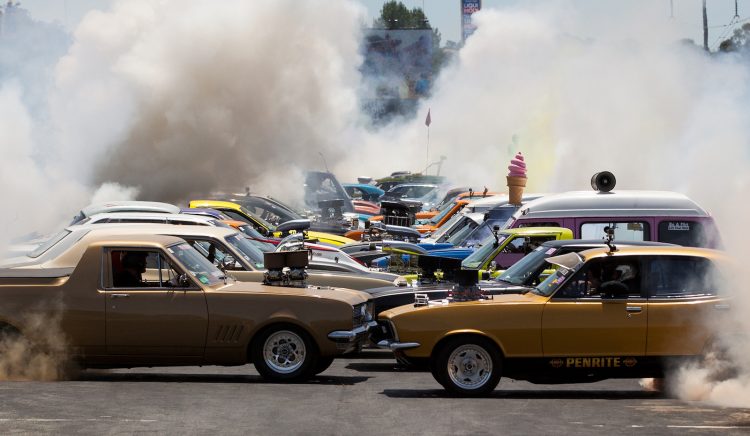 This year will be another jam-packed event, following last year's milestone 30th anniversary celebrations. Running from Thursday January 4 to Sunday January 7. Kicking it all off will be the Summernats City Cruise on Thursday, from midday.
Live music takes place on the Friday and Saturday night, with performances by Wolfmother, Thundamentals, and 28 Days. "We're definitely looking forward to a big hit out at Summernats. It's a crazy crowd and that's exactly what we like," 28 Days said.
Earlier this year, Summernats teamed up with the Canberra Institute of Technology and the team from TV show, Street Outlaws. Street Outlaws sent over a Chevy truck from the US for apprentices and teachers to modify into the ultimate 'burnout truck'. It will be on attendance at the event.
A new segment has been added to the schedule of events as well, called the Summernats Body Art Nationals. It aims to bring together the best tattoo artists into one complex, with live art shows and airbrushing displays for all to enjoy.
Lastly, Summernats and RYCO are giving away a 1965 Ford Mustang Muscle Car Couch – the perfect addition to any man cave. Entering the competition is free via a simple form on the Summernats website.
General admission can be bought on the Summernats website via the Nats Club, or at the gate on the day. However, there are early bird specials and so on if you purchase online, before the event starts.