Following the debut of the 2017 model year update for Nissan's epic GT-R supercar, Nismo has unveiled its updated package for the twin-turbo monster.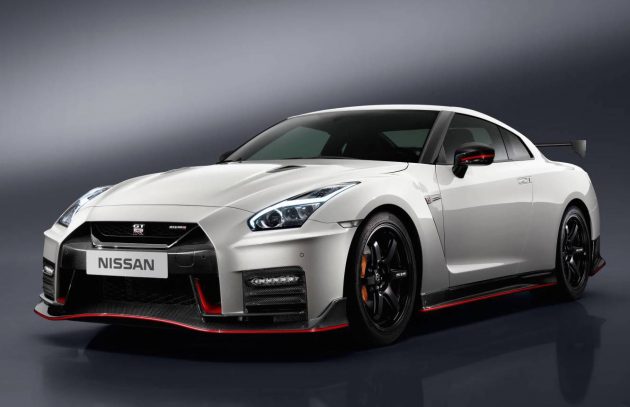 Nismo revealed the new model at the famous Nurburgring circuit in Germany, where the car has spent most of its time in testing and development. As such, Nissan is reminding us of the video showing expert driver Michael Krumm hammering the beast around the circuit back, from its initial launch in 2013 (see below).
We'll get straight to the point with the new model; there are no major engine modifications from the outgoing version. It retains the same 3.8-litre twin-turbo V6 unit producing 441kW and 652Nm – it's capable of propelling the GT-R around the Nurburgring in just 7:08. However, there are a number of enhancements that help to boost track performance.
At the front is an updated V-motion grille that now features a larger opening to help cool the engine, while showcasing the freshened up face of the regular MY17 GT-R update. There's also a "significantly reinforced" bonnet that resists deformation at extreme speeds, while the side canards have been reshaped to help guide air around the front wheel arches and aid downforce.
Unlike the regular GT-R though, the Nismo version's front bumper bar is made from carbon fibre. Some other minor body changes have also been made to help increase aerodynamic efficiency and downforce. In fact, Nissan says the new Nismo GT-R produces the highest amount of downforce of any Nissan production car ever made. But, we guess, it ought to as it is the company's fastest and most powerful production car ever.
Underneath it all, the suspension has been revised with retuned bespoke Bilstein dampers, springs and stabiliser bars. Tweaks have been made to help manage the additional downforce the new model creates, all the while helping to improve track performance. Nissan says the car's slalom capability is improved by almost two per cent.
Perhaps the biggest change for MY17 is seen in the interior. Passengers get the latest infotainment system which helps integrate many functions into the one platform, reducing the number of dash buttons and switches from 27 to 11. This includes an 8.0-inch touch-screen with sat-nav and digital gauges, surrounded by carbon fibre of course. The redesigned dash carries over from the regular MY17 GT-R.
Unfortunately for Australians, the 2017 Nissan GT-R Nismo is not heading Down Under any time soon. It's understood Nissan is still considering the business case for introducing the Nismo brand locally. It seems like a no-brainer to us. Nissan Australia simply says the new model is "not confirmed for Australian market at time of publication". The regular MY17 GT-R, though, lands in Australia in September.