Subaru will be unveiling the all-new Subaru BRZ, finally in full detail, at the upcoming 2011 Los Angeles Auto Show in November. The BRZ on show won't be the production version however, it will be a Subaru BRZ concept car, but at least it will have all its panels.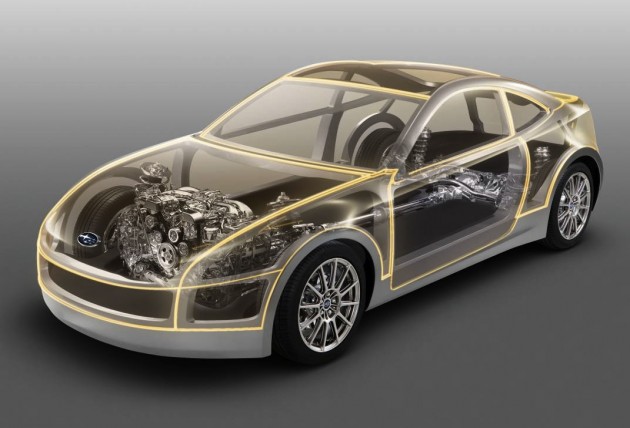 The joint rear-wheel drive coupe sports car being developed by Toyota (Toyota FT-86) and Subaru has been a long wait, with both companies trickling out teasers, previews and snippets but neither company has released full official details yet.
Subaru unveiled a technical showcase at the 2011 IAA Frankfurt Motor Show, currently underway, without revealing any exterior details. The Subaru BRZ on display featured transparent panels outlining the new coupe's rear-wheel drive driveline.
Finally, Subaru will be unveiling a full, complete Subaru BRZ concept at the 2011 Los Angeles Auto Show which starts on November 16. Although it will be a concept version, it will likely present a body similar to the production version, scheduled for production during the first half of 2012.
As far as details go, the Subaru BRZ will feature a 2.0-litre naturally aspirated four-cylinder boxer engine, using direct-injection technology, outputting around 150kW (according to reports).
Up to three different trim level variants will become available, each coming with the option of a six-speed manual or six-speed automatic transmission.
We'll be sure to provide any more leaks or updates prior to the show, as well as full coverage in November.
Also check out:
– Toyota FT-86 II Concept preview to Frankfurt
– Subaru BRZ drivetrain unveiled at Frankfurt show