Mercedes has released details of its newly developed 2.0-litre diesel engine which will debut in the E 220d, with the essence made from aluminum. It's the first of a new engine family being introduced.
The headline facts are impressive, with company's first "all-aluminum four-cylinder diesel" engine, according to Mercedes, codenamed OM 654, providing more power and 13 per cent better economy than the outgoing 2.1-litre unit.
Power is up from 125kW to 143kW (at 3800rpm), with a strong 400Nm of torque available from 1600rpm to 2800rpm (old 2.1 offered 400Nm between 1400-2800rpm).
On top of this, weight has been drastically reduced thanks to the new aluminum construction, down from 202.8kg to an impressive 168.4 kg. This will help with performance and handling, and even economy.
Fitted to the new E 220d, the OM 654 unit is capable of returning figures between 3.9-4.3L/100km on the combined cycle, and offers a 0-100km/h sprint time of 7.3 seconds.
The OM 654 turbo-diesel is a significant engine because it is the first in a long line of downsized and turbocharged engines that will soon power the future Mercedes lineup, as the company moves toward achieving goals of low emissions to meet increasing legislative pressure.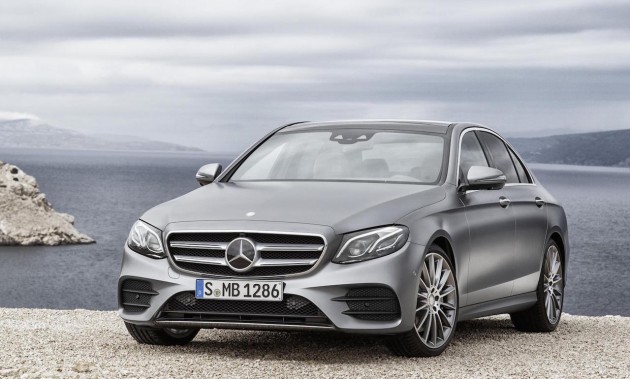 Mercedes says the new 2.0-litre unit will eventually be offered in a range of models, including horizontally-mounted front-wheel drive models, rear-wheel drive, and all-wheel, and it will come in various output levels. It has been designed to meet future emissions legislation, including RDE – Real Driving Emissions. Mercedes explains:
"In contrast to the current NEDC measurement cycle, the WLTP (Worldwide harmonized Light vehicles Test Procedure) cycle is aimed at ensuring that the figures for standard and real-world consumption are close together in future."