A super-rare 1967 Toyota 2000GT sports coupe has sold for a whopping US$1.15 million (approximately AU$1,112,830) at a recent RM Auction in the US. This makes it the most expensive Toyota production car in history.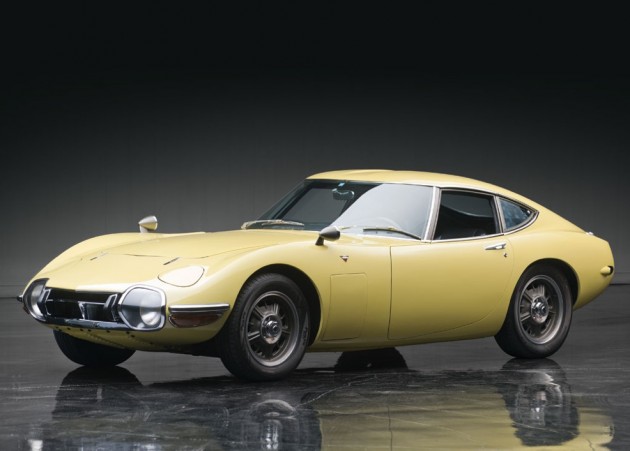 The mint yellow example is all original. Official production numbers are hard to come by, but according to RM Auctions, Toyota built just 351 examples, making this a very unique buy for the new owner. This partly explains the fetching sale price.
The Toyota 2000GT was a supercar in its day, and it was Toyota's first ever attempt at the sports/supercar market. It showcases an unmistakeably elegant body with sexy hips and a curvy front end, as well as a long illustrious bonnet.
Under which lies a 2.0-litre inline six-cylinder engine using twin overhead camshafts and three carburettors. Although staple items these days, twin camshafts were quite advanced in the 1960s, and helped the Toyota produce 112kW of power. This was a big figure in the day too, and still decent considering the GT weighs in at just 1120kg.
The low weight came thanks to an aluminium body. From a design perspective, it's simply glorious from every angle. It's got it all; pop-up headlights, minimal bumper bars, dashes of chrome, and a super-elegant tail. The roofline also sits just 116cm from the ground, giving it that very low and sleek profile.
The curvacious coupe wasn't just a pretty face either. It competed in various big motorsport events in Japan, including winning the Fuji 24-Hour Race in 1967, and coming third in the 1966 Japanese Grand Prix.
If you ever find one of these in an old barn somewhere, and you are offered the chance to acquire it for church change, be sure to snap it up as soon as possible; it'll be worth more than a pretty penny whatever the condition.