BMW has unleashed some details and a handful of prototype photos of the new, 2018 M5 super sports sedan. This is now the sixth-generation of the iconic performance model, and it's the first to feature xDrive all-wheel drive.
M5 fans might be disappointed to hear the new model comes with all-wheel drive, however, BMW engineers have cleverly worked in five driving modes including a rear-wheel drive setting. There's 4WD, 4WD Sport, along with DSC on, MDM, and DSC off.
Finer specifications of the engine are yet to be confirmed, but BMW says the 4.4-litre is the "most advanced version" yet, offering TwinPower turbo technology, with "upped power and torque" compared with the outgoing model. Outputs peak at 441kW and 700Nm.
This all allows the new M5 to cover the 0-100km/h sprint "noticeably quicker than its predecessor," BMW says, in under 3.5 seconds. Meanwhile, it also offers a 0-200km/h sprint in the "sort of times that leave its predecessor trailing in its wake."
As for that xDrive system, BMW says every time the engine is started it defaults to 4WD mode. In this setting the computers allow a certain amount of slip at the rear wheels, to offer the agility of traditional M cars. Flicking to M Dynamic Mode, more drive is sent to the rear wheels, and the MDM system allows more wheel slip and some drifting.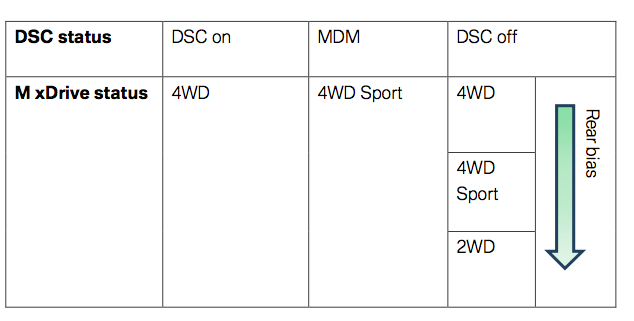 Once the DSC is deactivated, there is a choice of 4WD, 4WD Sport, and 2WD as well. In 2WD mode, the M5 becomes a complete rear-wheel drive vehicle and uses its Active M differential at the rear.
In other areas BMW confirms the new model will come with a revised head-up display which is now 70 per cent larger, while the transmission switches from a seven-speed dual-clutch to a more conventional and smoother eight-speed Steptronic.
A full reveal for the new M5 is expected very soon, with sales likely to kick off later this year.