This is it. The all-new 2020 Nissan Juke. It showcases a… shall we say, neater design than the predecessor, as well as big leaps forward in technology, powertrain options and cabin space.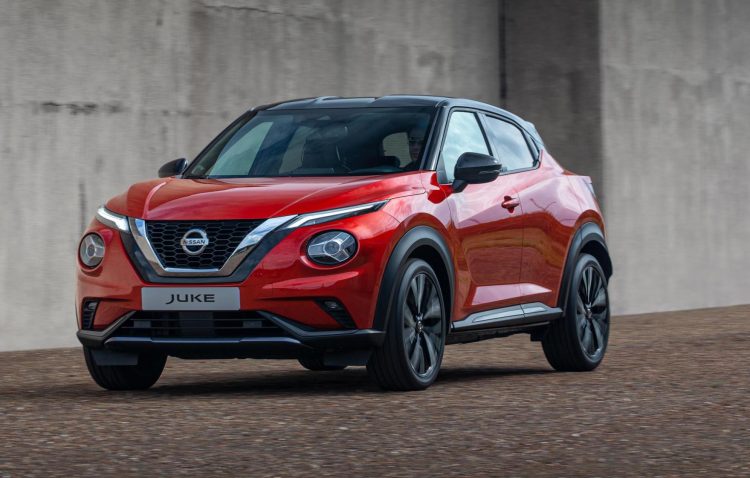 Starting with the design. Nissan has retained some degree of funkiness with the new model, which should keep existing owners happy. However, there are more modern themes applied, such as a more prominent version of Nissan's V-motion grille at the front, very slim LED daytime running lights, and some new Y-shaped headlights.
Along the sides there is an obvious wedge line that gives it a stance, like it's ready to pounce, while the vertical rear doors handles carry over from the old model. At the back is a completely redesigned apron and taillights, resulting in a much neater and cleaner look. There's also a sporty rear spoiler up near the roof.
Thanks to a new platform which is more rigid than before, the new model has grown to offer more passenger space. Overall, the body is 75mm longer, 35mm wider, and 30mm taller than the outgoing model. Rear seat kneeroom is increased by 5.8cm, and headroom is increased by 1.1cm. The boot capacity also grows from 354L to 422L. Despite growing in size, the use of high strength steel has helped to reduce the overall weight by up to 23kg.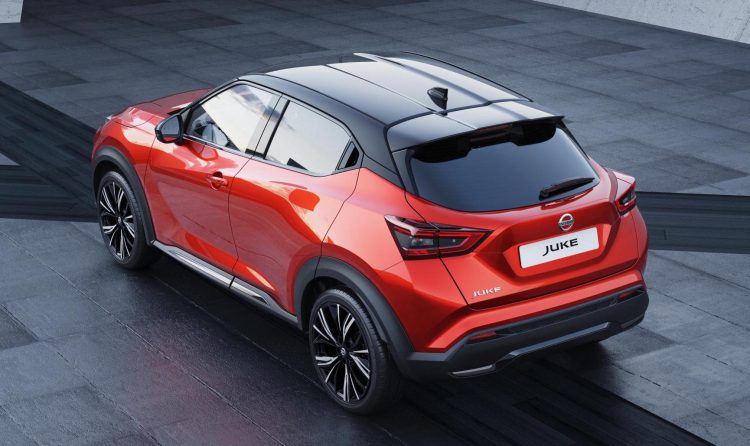 Under the bonnet, the 2020 Nissan Juke is powered by a 1.0-litre turbocharged three-cylinder petrol engine that produces 86kW. This is marginally more than the current 1.2-litre turbo that produces 85kW, but markedly down on the 1.6-litre turbo option found in the Ti-S that produces 140kW.
New for the 2020 model though is a seven-speed dual-clutch automatic transmission. Up until now the base model Juke was only available with a manual transmission (in Australia), while the 1.6T features either a manual or CVT auto. This could help to expand the new model's market reach. A six-speed manual is also available for those who prefer to shift themselves.
In terms of technology, the new model features Nissan's advanced ProPILOT safety suite. It includes automated steering, acceleration and braking, with autonomous-like cruise control in certain conditions. There's also pedestrian and cyclist detection, road sign recognition, rear cross-traffic alert, blind-spot intervention, and Intelligent Lane Intervention. These technologies will be available for the first time on the Juke.
Inside, Nissan has drastically improved the design and layout of the new model's cabin. It's cleaner and more user-friendly, while still maintaining a high level of sportiness and theatre. Up on the dash is a fresh 8.0-inch touch-screen media interface with Android Auto and Apple CarPlay, with TomTom maps and live traffic, as well as an available eight-speaker Bose sound system.
Production of the 2020 Nissan Juke will take place at Nissan's Sunderland plant in the UK, with the first customer deliveries in Europe commencing in November. Nissan Australia is yet to confirm local timing and specifications, but it is expected to arrive some time next year.
Juke sales in Australia are very much dwindling, and that's despite the recent release of the performance Nismo version. So far this year (through July), Nissan Australia has sold only 304 units of the Juke, which is down 26.9 per cent compared with the same seven-month period last year. For further reference, during the same period in 2017 Nissan sold 869 examples, and back in 2015 it sold an impressive 1634 units across the same period.