Skoda has been caught out testing its highly anticipated Kodiaq large SUV, just weeks away from its official debut.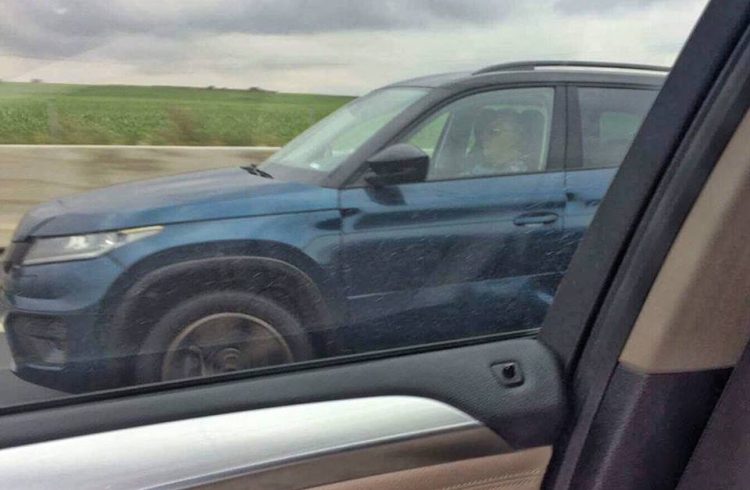 Credit goes to Magazin ProDriver CZ's Facebook page, who spotted what may well prove to be the world's first photo of a mostly undisguised Kodiaq.
The front end, and particular headlamp aesthetic, looks as though it's borrowed some inspiration from the Range Rover Evoque with a hint of the Suzuki Vitara thrown in for good measure. Overall though much of the design language of the Vision S concept has been carried over, in a somewhat watered-down manner.
The Kodiaq will benefit from VW Group's wide range of powertrains, including but not limited to, a likely 1.4-litre TSI unit in the base model, a 2.0-litre TSI in the step-up variant and a 2.0-litre TDI unit.
It is likely that buyers will have the choice of opting for a 92kW and 110kW version of the 1.4-litre, while the 1.8-litre TSI produces around 134kW, and the 2.0-litre TDI engine can produce either 110kW and 140kW, but with significantly more torque.
Kodiaq owners are set to have the choice of a six-speed manual or DSG auto, turning the front wheels in the base variant, with an optional all-wheel drive drivetrain on offer. The Kodiaq is also said to be equipped with an advanced off-road mode.
The crossover is expected to be around 4.7 meters long, and have a wheel-base slightly longer than the Octavia. Both five- and seven-seat layouts will be offered, with a confirmed cargo space of up to 2065L.
Skoda has also said a hybrid variant could enter the Kodiaq lineup in the coming years, but it will have to wait for the introduction of Skoda's first ever hybrid, based on the Superb, which is expected to be released by 2019.
It's not long until the Kodiaq makes its official debut in Berlin on September 1. Stay tuned for more.