The stylish Alfa Romeo Giulietta range in Australia has been expanded by four variants. The new entry-level models mean you can now jump into a new Giulietta for just $25,000 drive-away, which is around $5000 cheaper than the previous entry-level version.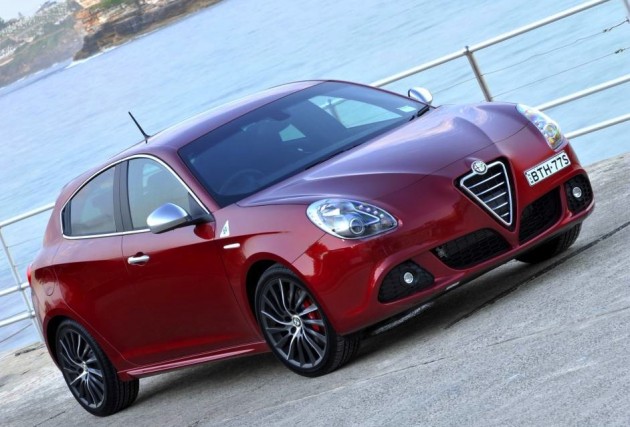 The four new variants are attached to the entry-level end of the range. Kicking off with a new base model powered by a 1.4-litre turbocharged four-cylinder, it offers 88kW and 206Nm. It also comes with a six-speed manual transmission.
Next up is the new Giulietta Progression 1.4 MultiAir. It comes with a manual transmission, offering 125kW of power and 250Nm of torque. It's also available with a TCT dual-clutch auto.
Lastly, a new Progression 2.0 JTDm is added to the range as the entry-level diesel. It comes with a 2.0-litre turbo-diesel four-cylinder producing 125kW and 350Nm, matched up to a TCT dual-clutch auto.
Above the base model equipment, the new Progression variants come with 16-inch alloy wheels, electric lumber adjustment for the driver's seat, a rear seat centre armrest, and electric folding side mirrors.
All variants come with the full suite of safety features and driving technologies, including six airbags, stability control, and Alfa's 'DNA' driving modes. The DNA system offers Dynamic, Normal, and All-Weather settings for throttle response to suit respective conditions.
Head over to our Alfa Romeo Giulietta JTDm review for more in-depth details.
The new variants join the current range and are available at dealers now. Prices are as follows (excluding on-road costs, or otherwise stated):
2013 Alfa Romeo Giulietta 1.4 TB (88kW) MT – $25,000 drive-away (New model)
2013 Alfa Romeo Giulietta Progression 1.4 TB MultiAir (125kW) MT – $27,450 (New model)
2013 Alfa Romeo Giulietta Progression 1.4 TB MultiAir (125kW) TCT – $29,450 (New model)
2013 Alfa Romeo Giulietta Progression 2.0 JTDM (125kW) TCT – $33,350 (New model)

2013 Alfa Romeo Giulietta Distinctive 1.4 TB MultiAir (125kW) TCT – $31,350
2013 Alfa Romeo Giulietta Distinctive 2.0 JTDM (125kW) TCT – $35,250
2013 Alfa Romeo Giulietta Quadrifoglio Verde (QV) 1750 TBi (173kW) MT – $39,150