There's a large portion of the car modifying community who believe everything can be improved by the fitment of a small-block Chevy V8, most commonly in modern, all-alloy LS guise.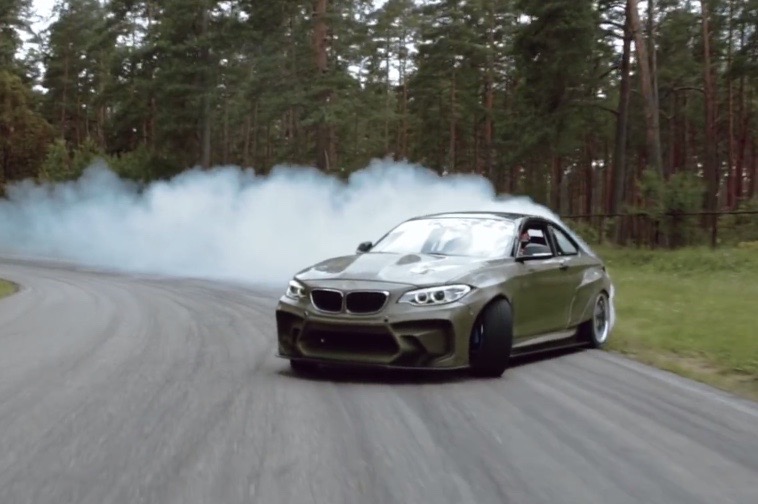 Lauded for its simplicity, reliability and tuneability, the LS has a massive support network and has seen duty in an eye-widening array of cars. It's even the engine of choice in our Volvo 240 GL project car.
Some believe that for luxury car applications, the pushrod engine is a bit uncouth and low-tech. Particularly European cars, which normally come with quad-cam, variable valve timing, high-tech V8s.
Well, Latvian tuners HGK don't really care for that opinion, having stuffed a highly-tuned LS V8 with a blower and a tunnel ram manifold into a current shape F22 BMW 2 Series, to create a drifting banshee. It is hooked up to a five-speed sequential gearbox and a heavy duty Winters differential to handle around 820hp of American grunt.
Built to Formula Drift spec, the car also received carbon-kevlar body additions, roll cage, drifting wheels equipped with titanium locknuts, and adjustable suspension. The fuel tank has been relocated to the middle and Wilwood brakes are added.
Visually, the new powerplant is telegraphed by a massive bonnet bulge and rear hip/wheelarch pumping courtesy of a Rocket Bunny kit.
The car is currently doing the rounds in Qatar in the Middle East, showing off its twisted, Frankencar brutality in a sideways manner. A video has been put together to showcase the car. Take a look below.