Tesla is planning the release of its latest software update for its vehicles, which most notably allows more performance than ever from the P100D. If (somehow) you think the P100D's Ludicrous mode isn't quite ludicrous enough, this is the update you've been waiting for.
Tesla CEO Elon Musk wrote on his Twitter account just hours ago that, "Looks like the Model S P100D Easter egg will allow it to do a 0 to 60mph in 2.4 seconds and a 10.6 sec ¼ mile via software update" next month.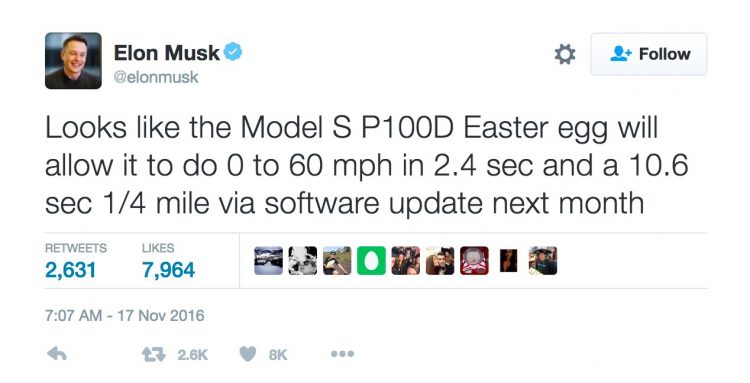 In addition, Musk stated that its SUV will also receive the power boost, resulting in "Model X numbers should also improve by 0.1 sec on 0 to 60" and ¼ mile.
This update to Tesla's Ludicrous mode technically makes it the fastest-accelerating production car currently on sale, considering the McLaren P1, Ferrari LaFerrari and Porsche 918 are out of production and don't achieve 0-60mph times this quick. The Model S is already the quickest-accelerating production sedan and has been since the launch of the Insane mode a couple of years ago.
Weeks ago, Musk teased for the first time the Easter egg that would unlock even more performance from the already-rapid Model S P100D. On November 4 he tweeted: "Forgot to mention there will be a P100D Ludicrous Easter egg soon that uncorks the full performance."
The update will come as a hidden feature, or Easter egg, that owners will have to find in the menu before activating the power update. The update in question is expected to be version 8.1 of Tesla's software, expected to drop some time in December.
In Australia the Model S P100D can be ordered now, with deliveries scheduled to arrive before the end of this year.