Alleged leaked images of the next-generation, 2018 Jeep Wrangler have emerged revealing one of the SUV's most unique and novel features will be retained; removable doors and roof.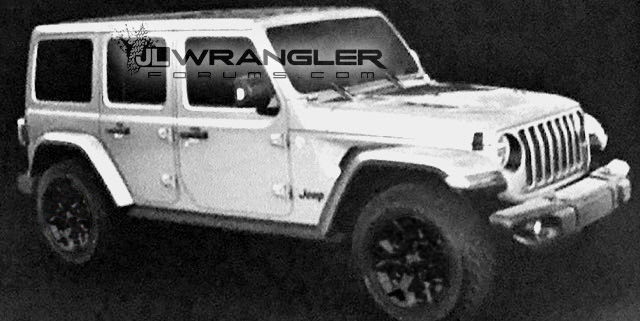 This will help it fend off any potential threats posed by the 2020 Ford Bronco, which will use the next Ranger's chassis as a starting point. Insider information suggests that while the Bronco may have a removable roof panel, the Wrangler will be alone in the segment as far as removable doors are concerned.
Looking at the images from JLWrangler Forums, the look is ostensibly similar to today's Wrangler, with variations in grille and bumper design, new-look front guards and different graphics for the front and rear LED lights. Extended use of aluminium is expected to garner a significant advantage for economy and weight over today's model, plus a range of new engines.
Engines are expected to come in the form of an updated Pentastar V6, twin-turbo four-cylinder petrol with around 220kW, and a diesel V6 engine to replace today's Fiat-derived four-cylinder. An eight-speed automatic and potentially a six-speed manual are also expected.
Wrangler's off-roading prowess will continue unabated, thanks to live front and rear axles for unrivalled wheel articulation. It is unknown at this point if the Ford Bronco will be taking this on too.
The Wrangler will also be joined by a pickup variant – as highlighted in our Top 10 utes coming in 2018 features – which looks as though it will be the only pickup available with removable doors and roof panel.
Production for the new model is set to commence in November, with a full reveal expected beforehand.