Figured out what you want for Xmas yet? How about a brand new Ferrari Enzo? Not possible, we hear you say… but indeed it is. Well, kind of. There's a 2003 Ferrari Enzo going up for auction that has only 354 miles (570kms) on the clock. It looks so fresh (in the pictures) that it could be mistaken for a 1/18th scale model.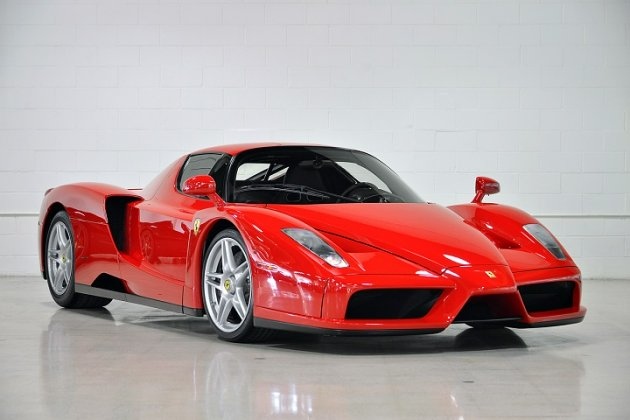 The car in question is a US-delivered Enzo coated in the famous Rosso Corsa red paint. It also features Nero trim (black) with Rosso Corsa stitching on the seats. Given the car's only travelled 570kms, it's no doubt the interior and exterior are still in immaculate condition. What we want to know is, how can you buy a car with a 485kW naturally aspirated V12 and not want to drive it?
The Enzo was produced from 2002 to 2004, with a total of 400 units rolling off the production line. When it arrived on the scene it got car enthusiasts around the globe drooling and lusting after its F1-inspired styling and insane V12 engine. The engine measures 6.0-litres in capacity and punches out 485kW and 657Nm, and will rev all the way to a spine-tingling 8000rpm – you can bet your best pair of socks that each gear you shift you'll be pushing to touch redline.
Performance-wise, the Enzo can shoot from 0-60mph (0-97km/h) in just 3.14 seconds, 0-160km/h in 6.6 seconds, and run the quarter mile in just 11.0 seconds flat.
Following on from the Enzo, Ferrari went on to produce the FXX – a highly-tuned version of the Enzo, the FXX Evoluzione – an even more hardcore version of the FXX, the Ferrari Millechili – based on the Enzo but featuring technology from a Formula One car, and the P4/5 by Pininfarina – a one-off Enzo-based supercar that retains the Enzo's drivetrain but gained new styling.
If you've got a spare couple million dollars and want to know how you can get this very Enzo delivered from its home in Los Angeles to your garage, head over to the James Edition website for more information.