The monumental new Ferrari that has been spied and scooped in the recent past has finally been officially revealed. Say hello to the LaFerrari FXX K, otherwise known as the mental patient of the auto world.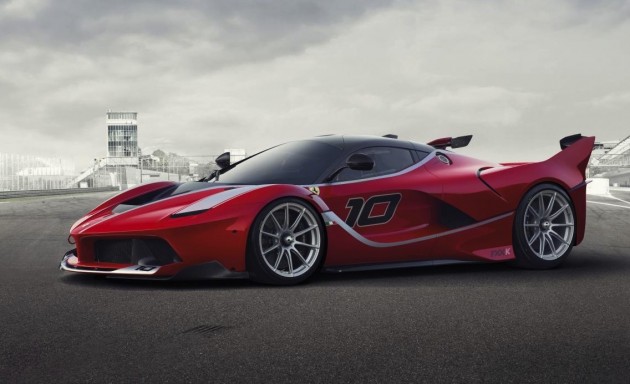 We all knew it was going to be a bit of a loose canon, but this new exclusive hypercar from Ferrari is beyond most people's imagination. As the name and previous reports suggest, it's an extension of the regular LaFerrari road car which is already mind-blowing, but it's been transformed to be more suitable for the track… or outer space, perhaps?
In the engine compartment sits a tweaked version of the 6.3-litre mega-hybrid system, with a boost in output from the standard 708kW rating to a monstrous 772kW (1050ps). Torque is also lifted to 900Nm.
These increases are thanks to new camshafts for the V12, a switch to mechanical tappets instead of hydraulic items, specially polished and modified intake manifolds, and a new exhaust with the silencers removed. It also gets an optimised HY-KERS electric system, hence the 'K' in the name.
As you can probably guess judging by the exterior, Ferrari's aero engineers have made extensive revisions to the body so it produces more downforce and thus more grip at high speed. There is a 50 per cent improvement in downforce, with up to 540kg pressing the car onto the ground at 200km/h. So, that's roughly like a complete original Mini Cooper sitting on the roof.
To help the driver manage all of this colossus there is a five-mode driving program on board which alters the stability and traction control for the rear-wheel drive layout, and changes the settings for the E-Diff and Racing SSC side-slip angle control.
Like previous FXX models, the LaFerrari version will be available exclusively for Ferrari clients. The special group of individuals will be part of a test programme to help Ferrari collect data for future vehicles.
It makes its official debut at the Yas Marina Circuit this weekend in Abu Dhabi for the Finali Mondiali event. More details including prices are expected then. For now we'll just let you sit and look at this thing in amazement, as we are.