In a move that has taken many by surprise, Summernats' co-owner Andy Lopez has just signed a joint venture with a leading Malaysian motorsport promotor to host a one-off Summernats exhibition event during the 2013 Malaysian GT. It will be held on the 15-16th of June this year.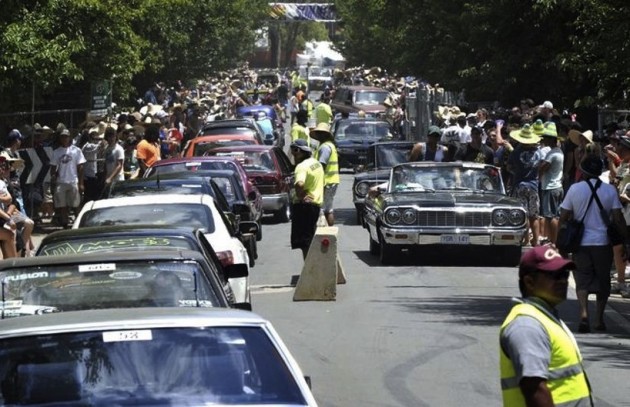 Summernats festival is a summertime blast for many Aussies, with more than 100,000 people attending this year's event alone. The event is largely hailed as the torchbearer of car festivals here in Australia, clicking over its 26th year in 2013.
Held in January at Exhibition Park, Canberra, the festival is known for hosting one of the world's best burnout competitions, as well as hosting some of the best show cars this country has to offer. It's a show that's certainly not for the fainthearted.
JPM Motorsports, the promoters that are joining forces with Summernats for the special exhibition, run the Malaysian segment of the Super GT series (essentially Japan's touring car series).
JPM Motorsports managing director, T.J. Chin, spoke about the cross promoted event, saying
"Besides the GT500 and GT300 races being the main features of the event, the Super GT this year will take the Summernats, Australia's premier gathering for street machines, local exotic and custom muscle cars, outside Australia for the first time."
The Summernats Exhibition event will see approximately 50 Malaysian-owned muscle cars, Japanese GT and domestic vehicles, custom bikes (a first for a Summernats event), and will have judged events, and an image gallery of Summernats champions from the past.
Andy Lopez said in yesterday's announcement;
"The Super GT, Malaysia and Summernats seems like one of the most unlikely partnerships you could imagine, but Malaysia has an enthusiastic and growing muscle car scene. The first bloke we talked to after the announcement was straight onto me about his '72 Torana GTR. Then I met a bunch of Holden fans who were sledging me because I drive a GTP.

"The motoring media, sponsors, public and even the chairman of the Japanese GT Series were really excited by the footage we played at today's announcement. It's great to see such a positive reaction in Malaysia to what we're planning to do here.

"The Malaysians will see some great muscle cars on display and motorbike burnouts at this year's Malaysian exhibition, but we can't wait to see some Aussie burnout masters ripping it up in front of 40,000 people at Sepang next year. That'll blow their minds."
As for next year's Australian Summernats '27' event, those who take out top spot in Grand Champion, Burnout Master, and Tuff Street Champion will have the opportunity to attend the Malaysian Super GT in 2014.
Summernats goes worldwide. Who would have thought?