Following some leaked images earlier this week, Mercedes-Benz has now gone ahead and officially unveiled the new GLS large SUV. It replaces the GL-Class.
As seen in the leaked images, the GLS doesn't just receive a name change as part of the company's new naming structure, it also gets a design makeover with a fresh front end and an updated interior.
The headlights are now more rounded and beady, while a larger grille stands out more prominently with two tiers and a big badge in the middle. There's also new LED daytime running lights.
Mercedes has updated the interior as expected, with a new centre fascia stack and a stand-alone tablet-style 8.0-inch LCD screen sitting at the top. A sporty three-spoke steering wheel is added in, as well as a futuristic control module replacing a traditional gear lever.
In the engine compartment the German company is going to offer a range of units, including the GLS 450 with a 3.0-litre twin-turbo producing 270kW and 500Nm, and up to a GLS 550 with a twin-turbo V8 petrol developing 335kW and 700Nm.
For us performance fans Mercedes is also offering the GLS 63 AMG. It comes with a 5.5-litre twin-turbo V8 belting out 430kW and 760Nm. It's matched to a seven-speed automatic, while all others get a nine-speed auto.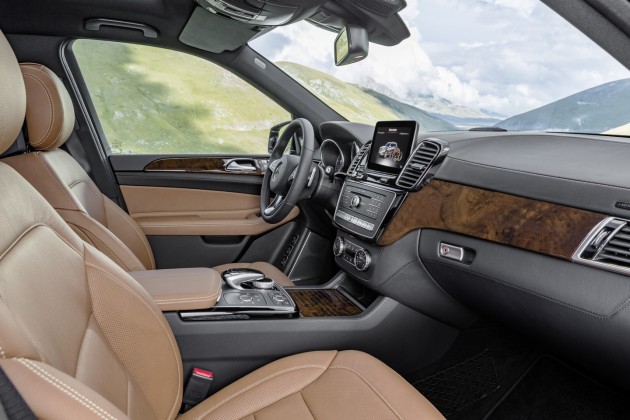 Given the GLS is the S-Class of SUVs, the company is introducing a range of high-tech safety and driving assistance functions too, such as Collision Prevention Assist Plus, Crosswind Assist, Speed Limit Assist, pedestrian detection, and Magic Vision Control.
The new model is set to arrive on the market overseas in March, with Australian dates and prices yet to be confirmed.