Followers of the performance car scene in Australia might recognise this little beast. It's a Mazda 1300 wagon, aka R100 wagon, that has been transformed into a crazy little show car.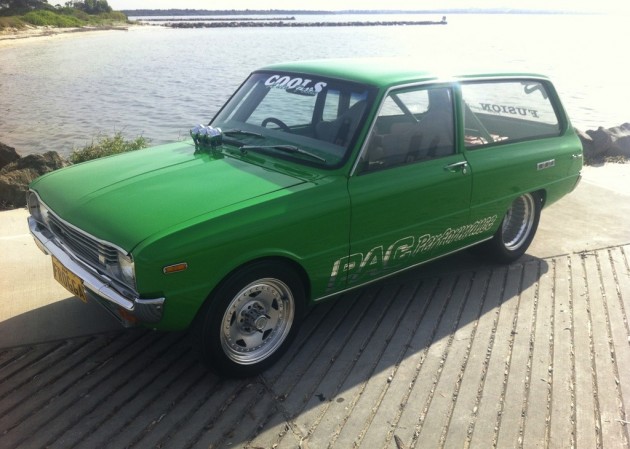 The 'FROGGA' nickname relates to its small green appearance and ability to pounce off the line with its huge rear tubs and fat 10-inch wide wheels.
Built by renowned rotary specialist in Sydney, Pac Performance, the 1300 features a fully engineered 12A twin-rotor turbocharged engine with a large front-mounted intercooler, large injectors, and a custom exhaust. Power output hasn't been mentioned but it's said to produce around 300kW.
Other custom highlights include a Ford nine-inch differential for pure strength, backed by a Toyota Corona four-speed manual. The grunt is harnessed by 15- by 10-inch Convo Pro alloy wheels at the back wrapped in 275mm tyres on the rear and 125mm tyres on the front.
Inside, the old-school dash has been retained but it's all been given a fresh layer of leather. There's also a variety of aftermarket gauges, a Momo steering wheel, and a pair of Velo race seats with Simpson harnesses.
The owner has had the car since 2001 and is asking $38,000, which is not bad for a very rare rotary wagon. Head over to the original AusRotary.com forum thread for more info.