It's finally landed, the exquisite new Range Rover Velar has been introduced in Australia including a unique First Edition special to kick off the launch.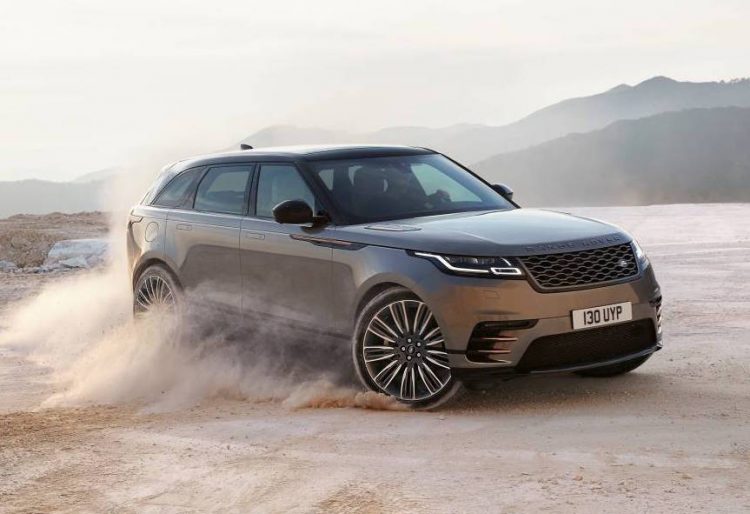 We already know plenty about the stunning new mid-size SUV, and we've seen plenty of official images and even some early spottings in Sydney recently. If you haven't heard of it, you might as well get used to it as it is tipped to become Range Rover's most popular model.
Sitting neatly in between the Range Rover Evoque and Range Rover Sport, the Velar is pitched as more of a sporty, swooping-roof SUV, with the underpinnings of Jaguar's iQ[Al] aluminium-intensive architecture seen under the Jag F-Pace.
Australian customers are being offered a whopping eight different trim lines with six different engine configurations, all featuring all-wheel drive and an automatic transmission. They span from regular, Velar S, SE, HSE, R-Dynamic, R-Dynamic S, R-Dynamic SE, R-Dynamic HSE. Exhausted yet? Engines include D180, D240, D300 for the diesels, and P250, P300, and P380 for the petrol units.
Power outputs range from 132kW, 177kW, and 221kW for the diesels, and from 184kW, 221kW and 280kW for the petrol. Fuel economy, in the same order, ranges from 5.4L/100km, 5.8, and 6.4 for the diesels, and from 7.6L/100km, 7.8, and 9.4 for the petrols.
All come with a luxurious set to features and appointments, including LED headlights and taillights, at least 18-inch alloy wheels (up to 22in available), a digital instrument cluster display (full digital available), and dual-zone climate control with air quality sensor. There's also a power gesture-operated tailgate, at least two USB ports and three 12V sockets, and a rear-view camera as standard. From here, the customisation possibilities are almost endless.
To celebrate the launch of the new model Land Rover is offering the First Edition, which is packed with all of the features from the top R-Dynamic HSE variant, while adding a rear diff lock, wade sensing, black contrast roof and sliding glass, 20-way power front seats with massage functions, and a 23-speaker Meridian sound system, among plenty of other things.
The official on-sale date for the Velar is penned in for September 22. Starting prices are as follows (excluding on-road costs):
Range Rover Velar D180 – $71,550
Range Rover Velar D240 – $80,950
Range Rover Velar D300 – $92,850
Range Rover Velar P250 – $70,662
Range Rover Velar P300 – $78,750
Range Rover Velar P380 – $93,462
Range Rover Velar S D180 – $82,650
Range Rover Velar S D240 – $92,050
Range Rover Velar S D300 – $103,950
Range Rover Velar S P250 – $81,762
Range Rover Velar S P300 – 89,850
Range Rover Velar S P380 – $104,562
Range Rover Velar SE D180 – $91,550
Range Rover Velar SE D240 – $100,950
Range Rover Velar SE D300 – $112,850
Range Rover Velar SE P250 – $90,662
Range Rover Velar SE P380 – $113,462
Range Rover Velar HSE D180 – $107,850
Range Rover Velar HSE D240 – $117,250
Range Rover Velar HSE D300 – $129,150
Range Rover Velar HSE P250 – $106,962
Range Rover Velar HSE P300 – $115,050
Range Rover Velar HSE P380 – $129,762
Range Rover Velar R-Dynamic D180 – $77,550
Range Rover Velar R-Dynamic D240 – $86,950
Range Rover Velar R-Dynamic D300 – $98,850
Range Rover Velar R-Dynamic P250 – $76,662
Range Rover Velar R-Dynamic P300 – $84,750
Range Rover Velar R-Dynamic P380 – $99,462
Range Rover Velar R-Dynamic S D180 – $88,650
Range Rover Velar R-Dynamic S D240 – $98,050
Range Rover Velar R-Dynamic S D300 – $109,950
Range Rover Velar R-Dynamic S P250 – $87,762
Range Rover Velar R-Dynamic S P300 – $95,850
Range Rover Velar R-Dynamic S P380 – $110,562
Range Rover Velar R-Dynamic SE D180 – $97,550
Range Rover Velar R-Dynamic SE D240 – $106,950
Range Rover Velar R-Dynamic SE D300 – $118,850
Range Rover Velar R-Dynamic SE P250 – $96,662
Range Rover Velar R-Dynamic SE P300 – $104,750
Range Rover Velar R-Dynamic SE P380 – $119,462
Range Rover Velar R-Dynamic HSE D180 – $113,850
Range Rover Velar R-Dynamic HSE D240 – $123,250
Range Rover Velar R-Dynamic HSE D300 – $135,150
Range Rover Velar R-Dynamic HSE P250 – $112,962
Range Rover Velar R-Dynamic HSE P300 – $121,050
Range Rover Velar R-Dynamic HSE P380 – $135,762
Range Rover Velar First Edition D300 – $168,250
Range Rover Velar First Edition P380 – $168,862