If you're after a very serious track car, turning to Radical Sportscars is usually a good first step. And when you see the company's latest creation, the Radical RXC Turbo, you'll begin to understand why.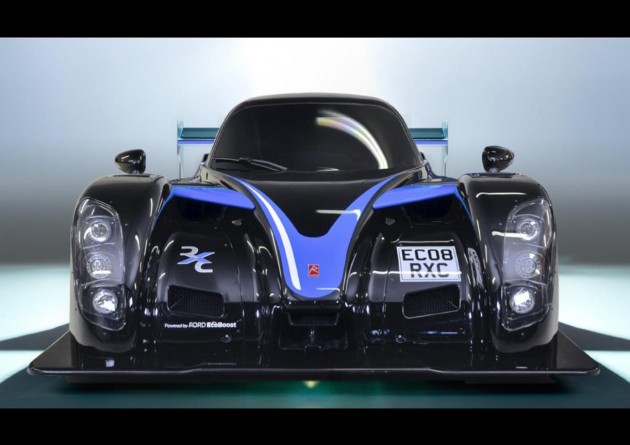 The RXC Turbo has just been revealed at the 2014 Autosport International event in the UK, showcasing a wild twin-turbo engine setup and vast aero features that make it a perfect package for anyone serious about attending some track events.
Nestled behind the cockpit is a 3.5-litre twin-turbo V6 engine that starts life as a Ford EcoBoost unit. With various tweaks the engine produces a mighty 338kW of power and 678Nm of torque.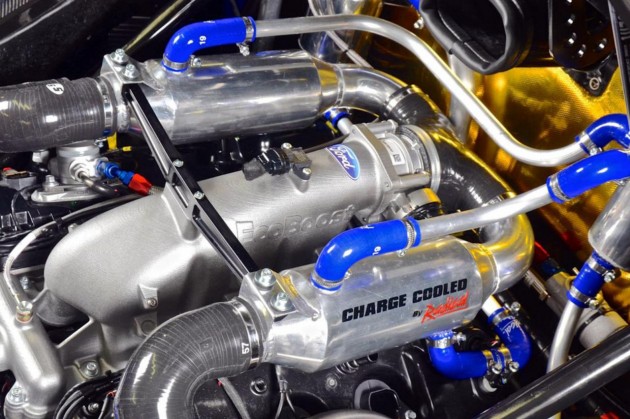 With a kerb weight of just 940kg, the power-to-weight ratio of the car is insane. Acceleration from 0-100km/h takes just 2.6 seconds (0-60mph), while the top speed is just shy of 300km/h.
Highlights include a bespoke Quaife sequential transmission with paddle shifters, a tubular spaceframe chassis with FIA-certified crash zones, as well as six-piston brakes and 17-inch centre lock racing wheels.
See below for the full specifications.
Interestingly, the RXC Turbo is available in road-legal trim or track-only specification. Prices in the UK start at 129,000 (approximately AU$236,360).
Engine: Ford EcoBoost 3.5l V6, Ti-VCT, 24-valve, DOHC, twin independent variable camshaft
timing, sequential direct injection, aluminium block, aluminium head, bore 3.64 (in), stroke
3.45 (in), charge cooled
Transmission: Bespoke seven-speed transverse Quaife gearbox with paddle shift and autoblip
Dimensions: Length 4300mm, Width 1960mm, Height 1127mm
Chassis: High-tensile strength CDS carbon tubular steel spaceframe with FIA specification
crash boxes front and rear
Body: Aerodynamic multi-piece composites (optional carbon sections), front and rear diffusers, full-width carbon bi-plane rear wing, gullwing doors with gas rams, full lighting system with LED daytime running lights
Downforce: 900kg at max speed
Interior: Multi-function fully adjustable steering wheel, EPAS power steering, electrically
adjustable and heated wing mirrors, air conditioning, heated front screen, single windscreen
wiper, adjustable pedal box
Seat: Bespoke FIA-compliant HANS compatible Corbeau seat with six-point harness
Fuel tank: Road; 70-litre aluminium tank Race; 100-litre FIA fuel cell
Electronics: AIM MXL dash (optional data logging package)
Suspension: Front and rear double wishbone, pushrods, bespoke inboard adjustable Intrax
dampers (optional four-way adjustable system)
Brakes: Fully-floating disc brakes with six-pot callipers, front 330mm, rear 310mm
Wheels: Centre-lock cast alloys (forged option), front: 17×9.5, rear: 17×11.5
Tyres: Road; Dunlop Sport Maxx or Direzza, front 235/620R17, rear 290/645R17 Race;
Dunlop SP Sport, front 215/45ZR17, rear 255/40ZR17