Audi is diving into the small premium SUV segment with the stylish new Q2, bringing sophistication, fashion, and technology to the increasingly popular class.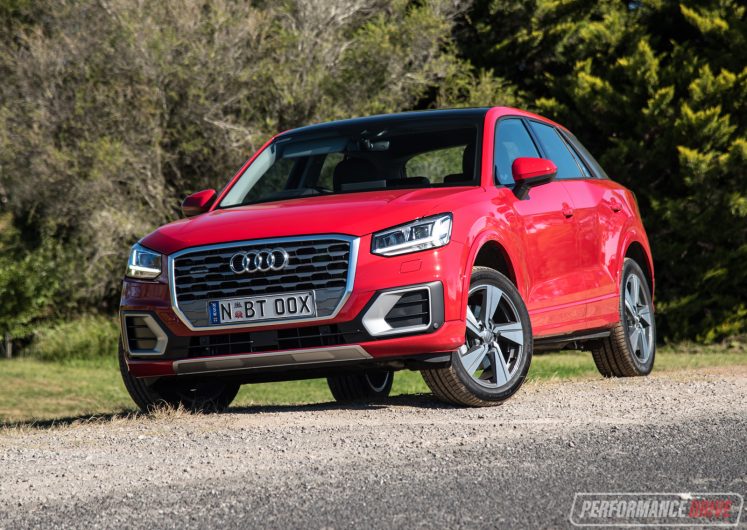 The Audi Q2 was launched in Australia in February, slotting in just beneath the Q3 as the new smallest SUV the company offers. It's available in petrol and diesel form, and in front-wheel drive and quattro all-wheel drive layout.
Here we're testing the flagship TDI diesel, which is the sole all-wheel drive model in Australia's two-variant lineup. Power comes from a 2.0-litre turbo-diesel producing 110kW and 340Nm, making it a strong contender in this specific market space.
Prices are quite attractive, with the base model 1.4 TFSI kicking off from $41,100, and this TDI starting at $47,900 (before on-road costs).
2017 Audi Q2 TDI quattro – THE SPECS
Engine: 2.0-litre turbo-diesel four-cylinder
Output: 110kW@4000rpm / 340Nm@1750-3000rpm
Transmission: Seven-speed dual-clutch auto
Drive type: All-wheel drive
Wheels: F & R: 18×7.0, 215/50
ANCAP: Five stars
Tare weight: 1570kg
Power-to-weight: 14.27:1 (kg:kW)
Official fuel economy: 5.0L/100km
Economy during test: 6.5L/100km
Fuel capacity/Type: 55L/Diesel
Power efficiency: 22kW:L/100km
0-60km/h: 4.24 seconds*
0-100km/h: 9.25 seconds*
60-110km/h: 6.58 seconds*
1/8 mile: 11.17 seconds at 108.5km/h*
1/4 mile: 17.10 seconds at 133.8km/h*
100-0km/h braking: 2.88 seconds at 36.60 metres*
Decibel at idle: 45*
Peak decibel at 60-100km/h: 77*
Priced from: $47,900
* Figures as tested by PerformanceDrive on the day. Factory claims may be different

2017 Audi Q2 TDI quattro – THE PACKAGE
Despite being the entry level SUV, Audi is showcasing its latest and suavest design and technology with the Q2. This TDI test vehicle comes packed to the brim. The highlight of the cabin has to be the optional Virtual Cockpit digital display, as Audi calls it. This is a fully digital TFT screen that replaces a conventional gauge cluster and speedo. Why is this good? Well, apart from looking really cool it also offers customisation.
So if you like a sporty drive you can have a large tacho and speedometer in the middle, ready for you to glance at. Alternatively, you can push the tacho and speedo outward, opening up digital real estate for various information, such as trip data, and even the map from the standard sat-nav system. We think it's great that you can change this around. For example, in the city, looking for that boutique cafe your friend told you about, you can have the map readily available right near your line of sight. And then out on the highway or in the mountains you can switch to the sporty displays for a more encouraging experience.
The Q2 is based on Volkswagen Group's now famous MQB platform, which is shared with more cars than we care to mention. The most important thing about this platform is that it's one of the automotive giant's biggest investments, setting the group back around US$60 billion in fact. This means a lot of development and engineering has gone into the foundation, and, thanks to its ability to be scaled and adapted for each of the VW brands and their cars, it also means production efficiency, so more vehicles can be built in a shorter timeframe. In theory this means quicker turnaround from the time you place your order to receiving the keys.
Underpinning the Q2, it is actually quite large and provides ample cabin space. The 2601mm wheelbase puts it on par with the Audi A3 hatch (the car that debuted MQB), and this results in an open and airy environment inside. Audi interiors are easily some of the cleanest and nicest designs in the business. So for the same attractive personality to be available in a small package is only a good thing.
Front seat room is plentiful. You get moderately perched up seats, both height adjustable, helping to give you that must-have raised riding position, while the footwells are deep and clear of intrusive panels and the transmission tunnel. To brighten up the front seat area the Q2 can be had with a unique snakeskin-like trim with LEDs that display a nightclub lighting experience, with 10 different colours available through the on-board MMI media interface. Speaking of which, the 7.0-inch screen presents clear and crisp graphics, along with a number of entertaining and interactive apps including Google Maps with Google Earth, and Wi-Fi hotspot capability.
For the driver, pedal placement is convenient but due to the high seat you do tend to stand on the pedals as opposed to resting up against them. All of the main controls are right at your fingertips though, so you can get on with driving without feeling like you need to go hunting for certain functions. We love the volume thumbwheel that's embedded into the steering wheel, in particular, with its high-quality metallic feel. The steering wheel is a sporty three-spoke item with a flat bottom. We're not completely convinced an SUV, especially a compact runaround like this, needs a flat-bottom steering wheel. But it adds a level of sportiness nonetheless.
In the back there's a surprising amount of room, for both width and legroom. There's no climate venting in the back of the centre console, but there is a large flip-down armrest with cupholders if there's nobody taking the middle seat. This test vehicle uses a sporty red stitching for the leather-clad seats, capable of matching the LED lighting in the front (if red is selected). Cargo space is also decent, with 405 litres expanding to 1050L with the rear seats folded down. The rear seats fold almost completely flat, helping the Q2 establish itself as a genuine practical product.

2017 Audi Q2 TDI quattro – THE DRIVE
Firing up the engine requires turning a key, which is unusual for a modern car, especially a premium car. However, it seems to mesh well with the Q2's practical-focused nature. This is one of the easiest vehicles to drive in this class. And we know that's a pretty silly and almost meaningless thing to say, but no car in this class offers this level of fusslessness. All of the controls work in exactly the way you're used to, with no weird gear selector or awkward indicators to worry about, and visibility is excellent thanks to the high seats, upright windows and minimal pillar obstruction.
The steering is light with good feel coming through for this segment, and the external dimensions are easily manageable in tight situations. Parking is also a breeze thanks to the standard rear-view camera. You also have Audi's pre-sense autonomous emergency braking technology (low speed) with pedestrian protection as standard. Out on the highway the Q2 is always solid and secure, even passing big trucks and during windy conditions. You can thank the Germans for this and their limitless speed autobahn highways – their vehicles need to be very composed and stable even at default level to cope with very high speeds.
Cruise control is standard, assisting with fatigue during those long journeys, but adaptive cruise control with distance settings is optional on both local variants. For the TDI it's only an extra $990, and it comes bundled with the Assistance Package which also includes nifty features such as high-speed autonomous emergency braking, lane keep assist, blind-spot warning, and automatic high-beam functionality. Audi's dynamic LED turn signals and LED headlights are optional.
Around the bends the Q2 handles with respectable verve, partly thanks to the MQB platform which is also used on the exciting VW Golf GTI and Golf R. Turn-in is sharp and committed, and body control is okay for the segment. Push it hard, particularly between switchbacks from left and right, and some body wobble becomes evident. The standard Michelin Primacy 3 tyres, measuring 215/50, aren't primarily designed for sportiness, but rather a mix of highway touring economy with a minor concentration on off-road performance. There's plenty of give in the tallish sidewalls though, resulting in a comfortable and compliant ride.
As for the TDI engine, 110kW doesn't sound like much but its 340Nm of torque is highly appealing. It peaks at just 1750rpm and holds until 3000rpm, with peak power available at 4000rpm. As impressive as these figures look on paper, it's just as well received behind the wheel. There's little delay in momentum, with surging shove on hand as soon as you hit the throttle, with decent top-end power for overtaking. Flat out we timed the 0-100km/h sprint in 9.25 seconds, which is neither poor nor creditable for this class. The rewarding low- to mid-range pull results in a 60-110km/h time of 6.58 seconds.
What is definitely creditable though is the fuel consumption. The official average is just 5.0L/100km, and we experienced around 6.5L/100km during our test. However, over a longer period we predict a real-world figure of around 6.0L/100km to be quite realistic. Keeping in mind this is the all-wheel drive model, you should note the economy as one of the Q2's main attractions.
2017 Audi Q2 TDI quattro – THE VIDEO
2017 Audi Q2 TDI quattro – THE VERDICT
Quality and attention to detail are paramount in the Q2. Fit and finish and interior design really stand out in this class in our opinion. It's a refreshing approach to the convoluted segment, and the base starting price is able to lure in a broad range of buyers and their budgets. Of course, there are plenty of option boxes to tick before you get to experience the full luxury here.
Our only real criticism with the Q2 is that it sits in the same vehicle class as the slightly larger but older Q3 (according to VFACTS). But, if anything, this is to the Q2's favour as it's much more modern, based on a new platform, and shows off Audi's latest design and features a lot better. The fact that it's available with all-wheel drive does give it a competitive edge against some of the 2WD-only rivals too.
PROS:
– Exceptional build quality and attention to detail
– Available technology
– AWD brings some degree of off-road ability
– Fuel efficient
– Funky design options for interior and exterior

CONS:
– Daunting options list
– Sits too closely to Q3?
As always, if you're thinking about buying a new car don't forget to click here to speak with our car buying specialists.