Toyota Motorsport will use the ADAC Rallye Deutschland in Germany to debut its latest Toyota GT 86 CS-R3 race-ready sports car. The special model has been designed for competition use only, and is certified to race in FIA R3 class races.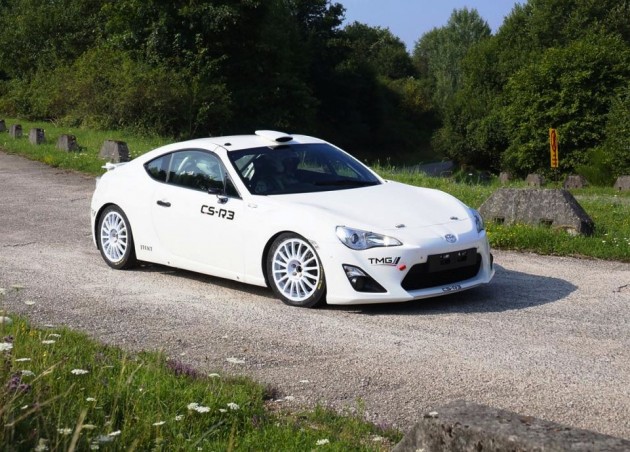 Most of the engine hardware is the same as in the road-going version, which means it comes with a 2.0-litre naturally aspirated boxer four-cylinder.
Output has been increased from 147kW though, to around 183kW thanks to some engine computer tuning, and cam lift and compression ratio adjustments.
From there, things start to get quite serious. The engine is backed up by a new six-speed sequential transmission feeding power into a limited-slip differential. The diff uses short ratio gearing and other options. A racing clutch and lightweight flywheel is also thrown in for good measure.
Other major changes include a full HJS racing exhaust system and manifold, a homologated FIA R3-certified safety roll cage, a JTEKT hydraulic power steering setup with a shorter ratio, and Reiger three-way adjustable dampers. It also gets four-piston front and two-piston rear brake calipers with up to 330mm discs.
Interestingly, Toyota Motorsport is still testing various setups and will use the Rallye Deutschland to further hone the package. The engineers have already put the setup through its paces on various surfaces, but they want to make sure it is ready for all kinds of competition before it hits the market. Nico Ehlert, TMG Principal Engineer – Customer Motorsport, said,
"It's important to say that the GT86 CS-R3 which Isolde will drive is not the finished article; we need the data from Rallye Deutschland to finalise our development programme. But it does represent a significant step in the GT86 CS-R3 story and gives a clear indication to our future customers that this project is progressing quickly."
The idea is to fulfill customer orders and commence deliveries in the first quarter of 2015.