Australian new vehicle registration VFACTS figures for September 2014 are out, with a number of brands posting big sales and shaking up various segments.
Jeep has forged its way into the top 10 selling brands in Australia for the very first time, while Holden has been pushed right down from second place into fourth place. Both Mazda and Hyundai overtook the local brand, getting nearer to industry leader Toyota.
Toyota regained firmer leadership in September compared with its somewhat average effort in August (for Toyota anyway). It posted around double the sales of second-best Mazda. Toyota sales are up 2.2 per cent on August but down 4.8 per cent on year-to-date efforts from 2013.
Companies that made big increases in terms of 2013 and 2014 year-to-date figures included Rolls-Royce (33 sales vs 10, up 230 per cent), Maserati (up 193.2 per cent), and Fiat (up 103.8 per cent). The top ten brands for September 2014 were as follows:
Toyota – 17,880 (up from 15,638 of August 2014)
Mazda – 9500 (up from 7529)
Hyundai – 8804 (up from 8601)
Holden – 8551 (down from 8635)
Ford – 6227 (down from 6908)
Mitsubishi – 6066 (up from 5233)
Nissan – 5484 (up from 5124)
Volkswagen – 4467 (up from 4066)
Subaru – 3204 (up from 2901)
Jeep – 2937 (up from 2628)
In terms of the top-selling vehicle model overall, the Mazda3 is back in the lead. Toyota had a six-month run at the top with the Corolla but it looks like the Mazda is clawing back. The overall sales race is neck and neck for 2014, with the Mazda3 recording 33,083 sales, slightly behind the 33,106 sales effort of the Corolla.
Third place remains in the hands of the Toyota HiLux (combined 4×2 and 4×4), with the Holden Commodore just fending off the Hyundai i30. Holden Commodore sales are up quite a bit on August's figures. The top five models in terms of outright sales for September 2014 were as follows:
Mazda3 – 4014 (up from 3124)
Toyota Corolla – 3893 (up from 3247)
Toyota HiLux – 3430 (up from 2918)
Holden Commodore – 2616 (up from 2344)
Hyundai i30– 2539 (down from 2651)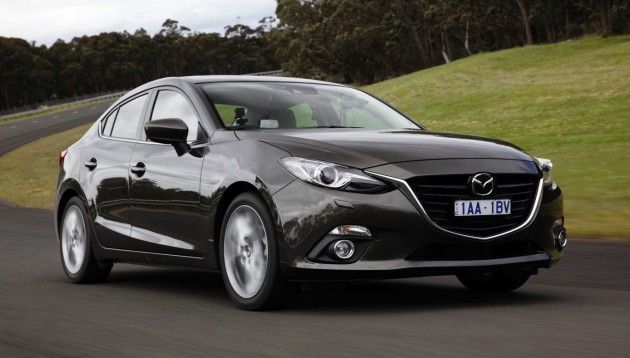 Over in the popular Medium Cars under $60,000 segment Toyota is still leading the way with the Camry. It went out to 2173 buyers last month, followed by the Mazda6 (542). The Ford Mondeo and Volkswagen Passat have been very close throughout the year, with 277 sales going to the Ford for third place, and 268 sales to the VW.
Stepping up to the very demanding Medium Cars over $60,000 class, new Mercedes-Benz C-Class sales are still going strong after hitting the market in August. It has held onto its leading position of August, followed by its arch rival, the BMW 3 Series. Lexus made good ground on the Merc CLA-Class but couldn't quite catch it for fourth spot. All other popular models remained in the same ranking. The top five in this segment were as follows:
Mercedes-Benz C-Class – 509 (up from 488)
BMW 3 Series – 476 (up from 464)
Audi A4 – 263 (up from 238)
Mercedes-Benz CLA-Class – 252 (up from 204)
Lexus IS – 241 (up from 173)
As for the once-favourite Australian Large Cars under $70,000 class, Holden posted impressive sales of the Commodore. It easily outsold all of its rivals, as usual, with sales up 26.5 per cent year-to-date compared with the same period in 2013. Ford trails behind with 467 sales of the Falcon, followed by the Toyota Aurion with 424 sales.
Stepping into the luxury Large Cars over $70,000 segment the Mercedes-Benz E-Class continues to lead the way. There's been little change in the top rankings, with almost all models posting higher figures than the previous month. The top five in this segment were as follows:
Mercedes-Benz E-Class – 154 (up from 124 of August)
BMW 5 Series – 99 (up from 51)
Jaguar XF – 92 (up from 65)
Audi A6 – 49 (up from 46)
Mercedes-Benz CLS-Class – 30 (up from 24)
In the fun-loving Sports Car under $80,000 segment the Toyota 86, remarkably, remains king after countless consecutive months at the top. However, VFACTS continues to place the Subaru WRX in the small car class with the Corolla and Mazda3. If it were placed here, where it should be, the WRX would have been the leader in September. The top five models in the category were as follows:
Toyota 86 – 328 (up from 297)
Hyundai Veloster – 247 (down from 261)
BMW 1/2 Series Coupe/Convertible – 112 (down from 120)
Subaru BRZ – 81 (up from 72)
Audi A3 Convertible – 84 (up from 68)
(Subaru WRX – 408 [up from 321] – not officially in this segment)
If these above models aren't exciting enough for you, the Sport Cars over $80,000 segment is sure to have something more to your liking. The best-selling model in September was the BMW 4 Series, once again. Sales seem to keep going higher and higher every month for the new 3 Series two-door. No major changes were made to the rankings, aside from the Mercedes-Benz C-Class Coupe switching places with the E-Class Coupe. The top five in this category were as follows:
BMW 4 Series Coupe/Convertible – 206 (up from 191)
Mercedes-Benz E-Class Coupe/Cabrio – 114 (up from 85)
Mercedes-Benz C-Class Coupe – 112 (up from 102)
Audi A5 – 51 (down 62)
Mercedes-Benz SLK-Class – 55 (up from 31)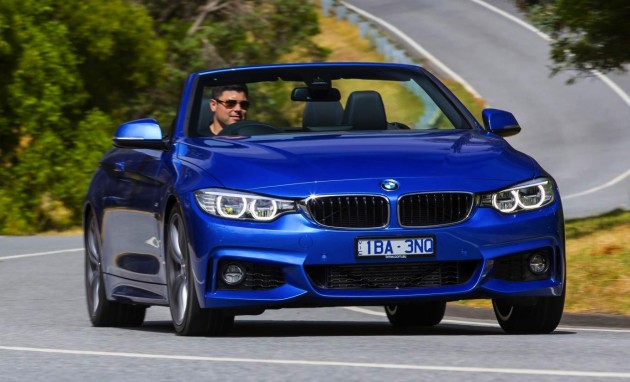 In the Sport Cars over $200,000 segment, the Porsche 911 was kicked off the top by the BMW 6 Series. Lamborghini also worked its way into the top five, likely thanks to the new Huracan (Gallardo replacement) which recently went on sale in Australia. The top five in the category were as follows:
BMW 6 Series – 31 (up from 18 of August)
Porsche 911 – 27 (down from 30)
Jaguar XK – 15 (up from 10)
Lamborghini (models not specified) – 9 (up from 2)
Aston Martin (models not specified) – 7 (down from 9)
At a change of pace, the 4×4 ute class was dominated by the Toyota HiLux which went out to 2395 new homes in September. It was followed by the Ford Ranger 4×4 with 1934 sales, and the Nissan Navara with 1339 sales.
As for the Combined 4×2 and 4×4 ute class, Toyota is still the king. Amazingly, all models kept their ranking place from August figures. The top ten 4×2 and 4×4 combined figures for September 2014 look like this:
Toyota HiLux – 3430 (up from 2918)
Ford Ranger – 2446 (up from 2222)
Mitsubishi Triton – 2029 (up from 1799)
Holden Colorado – 1432 (down from 1637)
Nissan Navara – 1401 (up from 1303)
Mazda BT-50 – 1060 (up from 979)
Isuzu D-Max – 949 (up from 837)
Volkswagen Amarok – 762 (up from 557)
Great Wall V200 – 48 (down from 97)
Great Wall V240 – 50 (down from 62)
Lastly, the SUV segments saw a lot of changes. The Mitsubishi ASX overtook the Subaru XV in the small class, while the new Lexus NX is already off to a great start in the class above. The NX has only just gone on sale yet 32 sales have been made – this should be one to look out for.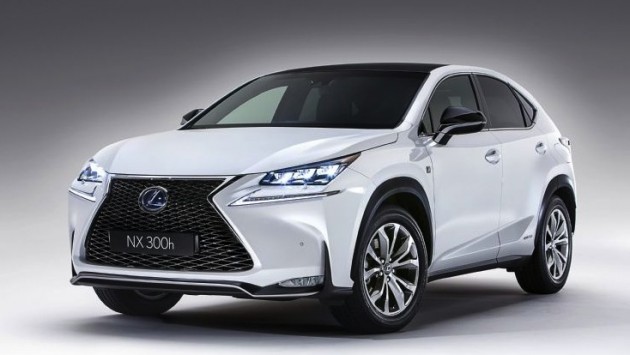 In the larger segments the Mitsubishi Outlander shunted the Honda CR-V for third spot in its segment. Up one class we saw the Audi Q5 overtake the BMW X3, and in the large class the Jeep Grand Cherokee was shifted from top spot for the first time in months, by the Toyota Prado. In all SUV segments the top-sellers for September 2014 were as follows:
SUV Small under $40,000:
Hyundai ix35 – 1802 (up from 1447 of August)
Mitsubishi ASX – 1022 (up from 712)
Subaru XV – 985 (down from 1073)
SUV Small above $40,000:
Audi Q3 – 166 (down from 185)
Mercedes-Benz GLA-Class – 136 (up from 103)
BMW X1 – 123 (up from 117)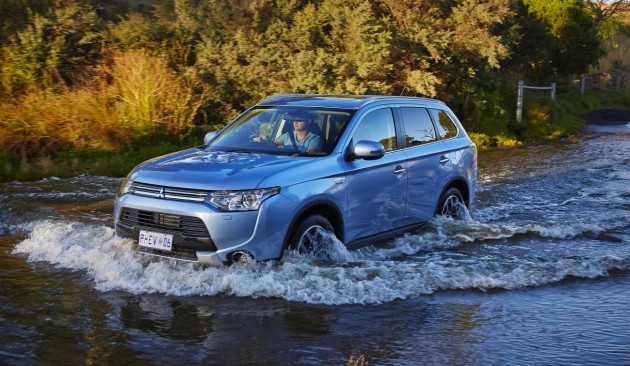 SUV Medium above $60,000:
Audi Q5 – 270 (down from 272)
BMW X3 – 246 (down from 287)
Range Rover Evoque – 173 (down from 208)
SUV Large above $70,000:
BMW X5 – 352 (up from 326)
Mercedes-Benz M-Class – 323 (up from 284)
Land Rover Discovery – 317 (up from 190)
SUV Upper Large under $100,000:
Toyota LandCruiser – 784 (down from 835)
Nissan Patrol – 97 (down from 101)
Total new vehicle sales in Australia in September increased compared with August's figures, with 94,978 sales over August's 88,157 effort. Sales were also up on September 2013 figures by 2.5 per cent.
As for what fuel types buyers went for in September, the sales figures for private buyers in terms of vehicle fuel were as follows (passenger, SUV, and light commercial combined):
Petrol – 35,839 (up from 34,768 of August)
Diesel – 12,617 (up from 11,887)
Hybrid – 300 (up from 256)
LPG – 19 (down from 27)
Electric – 11 (down from 14)