The all-new Porsche Macan mid-size SUV has been unveiled at both the Tokyo Motor Show and Los Angeles Auto Show. The new model sits underneath the Cayenne, and, as previously reported, will kick off initially in Macan S, Macan S Diesel, and Macan Turbo forms.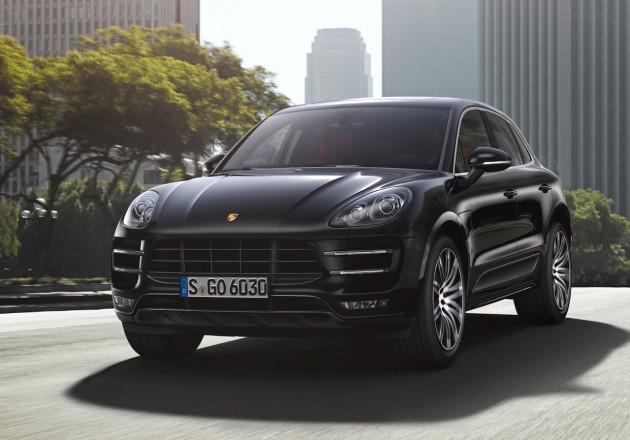 Showcasing typical Porsche SUV styling, the Macan is underpinned by the same platform used on the Audi Q5. Its proportions and footprint are very similar, with a clear Porsche performance-oriented body including the huge air intakes in the front end and quad-outlet exhaust layout at the back.
As revealed last week in a leaked spec sheet, the Macan S is powered by a 3.0-litre twin-turbo V6 producing 250kW and 460Nm. It's able to cover 0-100km/h in 5.4 seconds (5.2 with Sport Chrono option), while offering a combined cycle fuel economy rating of 8.7L/100km.
Next up, the Macan S Diesel. It also features a 3.0-litre turbo V6, however, power peaks at 190kW while torque is at a much more serious 580Nm. It's able to do the 0-100km/h dash in 6.3 seconds (6.1 with Sport Chrono), while offering a fuel economy average of 6.1L/100km.
Finally, the Macan Turbo. This is the mack daddy of variants sporting a bespoke 3.6-litre twin-turbo V6 with 294kW and 550Nm. It's able to demolish 0-100km//h in just 4.6 seconds with the optional Sport Chrono pack, or 4.8 seconds as standard. Fuel economy is rated at 8.9L/100km.
All three will go on sale internationally from April, 2014. Prices are yet to be announced, however, it is expected to kick off from around $80,000.
Given the Cayenne is easily the company's most popular model, the Macan is anticipated to take over as the most popular model in the showroom range.