After lots of speculation and rumours, Mazda has finally confirmed it is planning a small crossover to sit below the CX-5, called the CX-3. It will make its official debut at the Los Angeles Auto Show next month.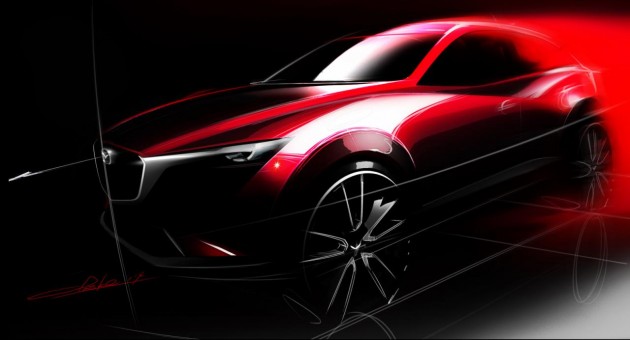 The new model is expected to be like a jumped up crossover version of the Mazda2, making way in the company's showroom as the new entry-level SUV. It will showcase the latest in Mazda's 'KODO – Soul of Motion' design and in-car technology.
Powertrain details are yet to be confirmed, however, the company says it will come with a range of SkyActiv units. We can expect a lineup of petrol four-cylinder engines, starting with a 1.5 producing between 55kW and 77kW, and potentially a small capacity turbo-diesel at least for some markets.
As for the design, it will be the sharpest iteration of the KODO theme, featuring an enhanced sense of speed according to Mazda. The official preview sketch above shows some bolstered wheel arches, a prominent upper front grille, and strongly defined rear haunches.
When it arrives on the market next year it will compete with the likes of the Ford EcoSport, the Holden Trax, the Hyundai ix35, and the Mitsubishi ASX. At the moment Mazda doesn't offer an SUV for this segment. With the CX-5 dominating the next size up, the new CX-3 certainly has the potential to become the best-selling in the smaller segment in Australia.
Joining the CX-3 at the Los Angeles show, Mazda will unveil the updated Mazda6 and updated CX-5, as well as the all-new MX-5 sports car. It all starts on November 21.