Looking for the mack daddy of all Porsche 911 models? Welcome to the new 911 GT2 RS. It comes in as the most powerful production 911 ever made.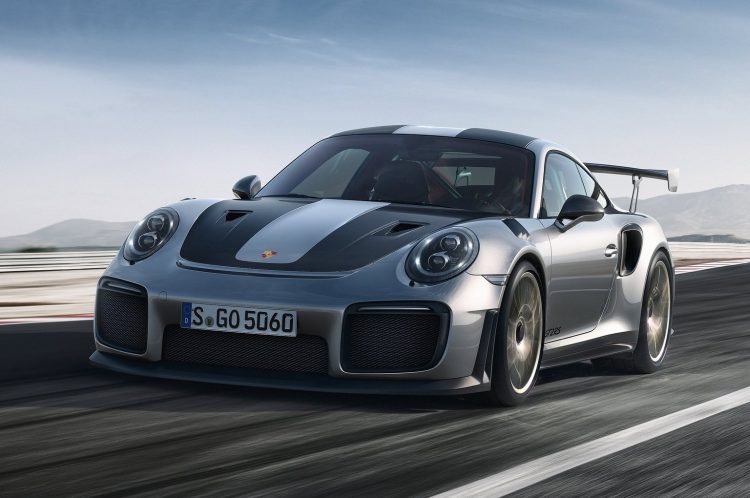 The road-going racer is being revealed at this weekend's Goodwood Festival of Speed, showcasing a wild aero kit with a huge rear wing, deep and low front spoiler, and lots of special vents and intakes for cooling.
In the engine compartment in the back is a 3.8-litre twin-turbo flat-six, derived from the unit used in the 911 Turbo S. Thanks to a set of larger turbochargers and a water-spray charge-air intercooler, the beast produces an amazing 515kW of power and 750Nm of torque. This is up considerably on the Turbo S and its 427kW output.
Across the tarmac it'll sprint from 0-100km/h in just 2.8 seconds, with a dizzying top speed of 340km/h. Some of this performance is thanks to a relatively low kerb weight of 1470kg. A titanium exhaust helps with this, cutting around 7kg, along with various carbon fibre bits and pieces.
Porsche is also offering a Weissach package, like in the 918 Spyder. This cuts a further 30kg via lots of carbon fibre and titanium being used for some components. In the pack is a set of magnesium wheels, a carbon roof and anti-roll bars, and a unique carbon bonnet with a central strip in the same colour as the car.
Bolted up to the engine is a seven-speed dual-clutch automatic with rear-wheel drive, with power gripping the ground via a set of 20-inch front alloy wheels wearing 265/35 tyres, and 21-inch wheels shod with 325/30 tyres on the rear.
Other highlights include red Alcantara trimmings for the cabin, black leather, a bespoke GT2 RS steering wheel, bucket seats, and Porsche's Communication Management system with Connect Plus and Porsche Track Precision apps included.
The GT2 RS is available to order in Australia now, with first deliveries set to commence in early 2018. Prices start at $645,400 (excluding on-roads).