Nissan Micra fans, now is the time to get excited. The new Sway concept has just been revealed at the 2015 Geneva Motor Show, previewing Nissan's next-generation compact car.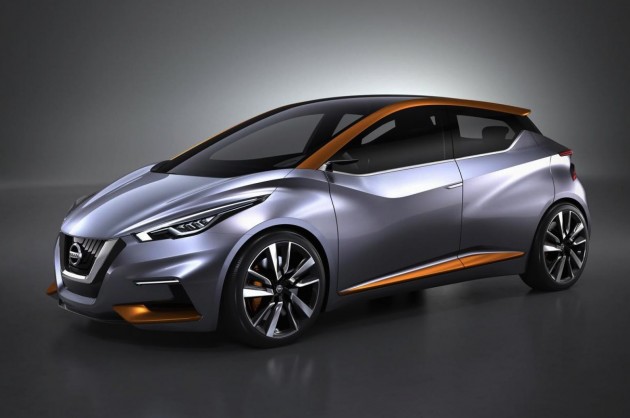 If a production model looks anything like this, it will be awesome. Nissan says the Sway gives us some insight into the company's future design direction, featuring edgy panel contours, bolstered wheel arches for a fat stance, with a V-motion grille, floating roof, and swept-up C-pillars. Nissan says,
"Sway has been designed to shake up the compact hatchback segment, traditionally a conservative sector of the market. With its swooping lines, striking nose, elegantly simple interior and bold use of sophisticated colours, the concept is a daring and emotional design."
It's just as impressive in the cabin too, with two basic instruments facing the driver. The rest of the controls and on-board functions are within a large trapezoidal tablet in the centre of the dash. There's also lightweight aluminium seats covered in suede-like material with stitching techniques borrowed from premium handbag manufacturing, as well as splashes of blue and orange to brighten up the atmosphere.
Although it looks quite large, this is mainly down to the sheer presence of the body design. It measures 4010mm in length, 1780mm in width, and 1385mm in height, which makes it 230mm longer, 115mm wider, 140mm lower than the current Nissan Micra. Shiro Nakamura, senior vice president of design and chief creative officer at Nissan, said,
"We believe that the Sway continues our tradition of challenging the status quo in market segments by bringing something fresh, distinctive and striking, much as we did with QASHQAI and Juke. With this new concept car for Geneva, we are experimenting to see how Nissan might be able to bring fresh ideas to the compact hatchback segment."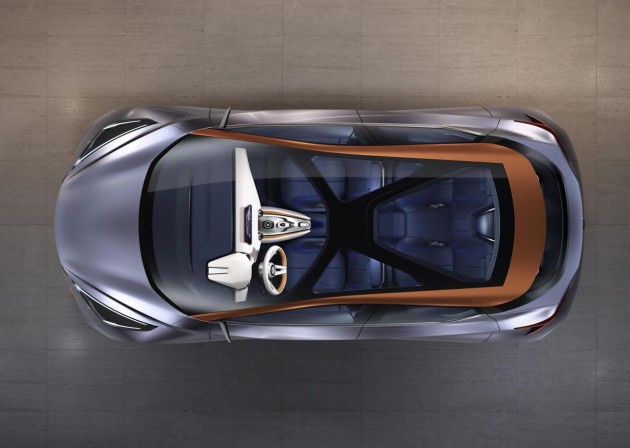 The question is, will it see light of day? Or rather, see the insides of dealerships? Nissan says innovation and product planning gave birth to the very popular QASHQAI and Juke, and now the same thinking has been applied to the compact hatch segment. Nissan says,
"Sway is a glimpse at how a future generation of compact Nissan models might look if the company's striking new design language was applied to a European hatchback. It is a concept car designed especially to appeal to European tastes."
Fingers crossed something like the Sway concept hits showrooms soon.