Chinese EV-producer NextEV has been spotted testing its highly-secretive electric-powered supercar around the Nurburgring.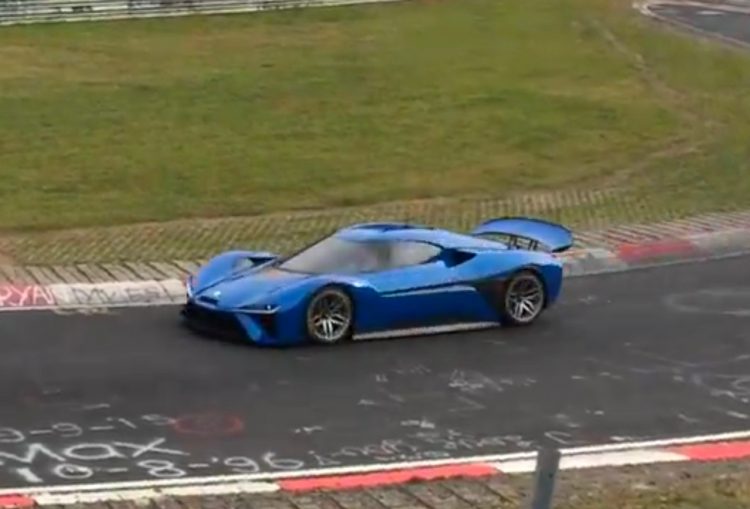 The mysterious EV, which could in fact be considered a megacar, was spotted at the famous circuit being filmed by helicopter, more than likely gathering footage for marketing purposes.
While precise details are hazy at this point, CarNewsChina reports that the supercar has a power output of 1014kW and can produce a 0-100km/h sprint in three seconds, onto a top speed of 300km/h.
NextEV could also be eyeing-off the current lap record for an electric vehicle. The current Nurburgring electric vehicle record is held by Toyota Motorsport, who sent Jochen Krumbach around the Nordschleife in its EV P002 and returned with a 7:22 lap record back in August.
If purported power outputs turn out to be legitimate, the EV may have a fighting chance at becoming the EV king of the 'Ring.
The report also mentions that NextEV is planning to produce just six examples of the supercar, with the halo car paving the way for more affordable models from NextEV by 2018.
NextEV isn't a run-of-the-mill Chinese start up; the company has been involved in the Formula E open-wheel racing series since 2014, where Nelson Piquet Jr won the driver's championship by a single point. It has also snatched high-profile executives like Dr Matin Leach who serves as co-president, who previously worked as CEO of Maserati and president of Ford Europe.
The supercar will serve as NextEV's introduction to the world, with a partnership with JAC, one of China's largest automotive conglomerates, set to bear fruit in the form of affordable EV models by 2018. See below for the spy video.