We've featured no shortage of Audi tuners here on PD, particularly for the smaller four- and five-cylinder models, where tuners extract jaw-dropping power figures and sometimes exceed 300km/h.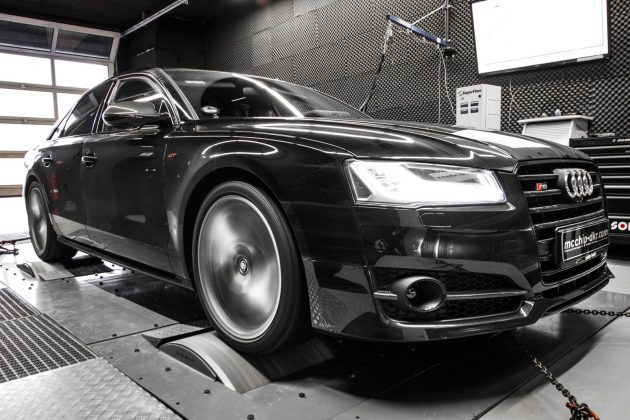 For a change we're featuring mcchip-dkr's latest Audi S8 Plus performance package, which starts life with a 4.0-litre twin-turbo V8 churning out 445kW and 700Nm; a weapons-grade base to start with.
These nutcases wound that all the way up to a Hellcat-abusing 588kW of power and 927Nm of torque, as shown on a four-wheel drive dyno through the quattro all-wheel drive system.
This is achieved via a complete custom exhaust system from headers to tip, incorporating wider downpipes and a stage 3 kit including a completely remapped ECU, two larger turbos nestled between the twin V8 cylinder banks. The car also features some sinister blackout appointments along the main and lower grilles.
There is no mention of price at this stage, or 0-100km/h numbers, but we imagine it would be devastating along the tarmac, given the standard S8 Plus nails it in 3.8 seconds. With this sort of upgrade, it could dip further down into the 3s, approaching Tesla Model S P90D territory.