Koenigsegg has revealed the new Regera hypercar at the 2016 Geneva Motor Show in Switzerland. It becomes the exotic brand's new flagship monster.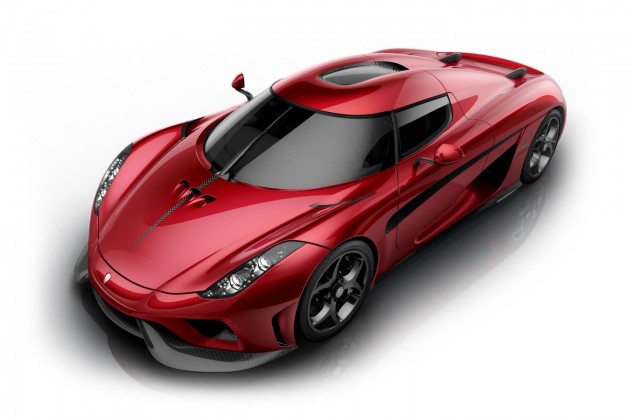 Based on the concept car, the Regera has been honed and perfected to ensure it presents utter performance and driving perfection. In fact, Koenigsegg says that over 3000 changes were made to the original concept for this production version.
One of the biggest challenges with development was the all-new Direct Drive transmission. The company says the new unit does without the weight, complexity, and mechanical losses usually associated with traditional gearboxes. Koenigsegg explains:
"Koenigsegg has developed a clutch-slip mechanism that uses the hydraulic coupling to convert torque at medium/high speeds during fast acceleration. This allows the combustion engine to gain revs and power, thereby giving the sensation of a traditional downshift with the associated aural enjoyment, even without the traditional gearbox."
Another interesting first for the company is the "extreme" battery pack. It comprises of an 800-volt, 4.5kWh setup, making it the world's first 800-volt production car, the company claims. The system is capable of discharging 525kW and recharging 200kW.
As for the juicy stuff in the engine bay, the Regera is powered by a 5.0-litre twin-turbo V8 developing "1500hp+" (1104kW), and over 2000Nm. As a result, the new model can cover 0-100km/h in just 2.8 seconds, 0-200km/h in 6.6 seconds, and 0-300km/h in 10.9 seconds.
Perhaps most remarkable of all of this is the fact Koenigsegg designs, engineers, and manufacturers most of the components in-house, including the wheels, engine and transmission, brakes, and even the electric management systems.
Inside there are some creature comforts and luxuries for the lucky passengers, including an on-board interface with Apple CarPlay, and Wi-Fi functionality. There's also an inductive phone charging system, and the seats are power adjustable with heating functions.
The new model is on sale now with deliveries set to commence at the end of 2016. Time to start saving.