Following up on the new Gumpert Apollo supercar teaser from a couple of weeks ago, the company has now released the next preview.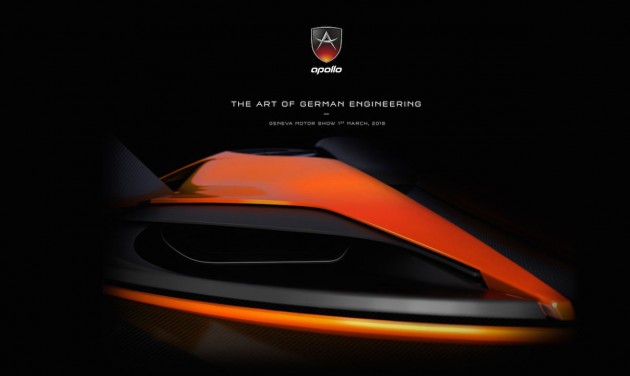 Earlier this month we heard the news of Gumpert being acquired by Ideal TeamVenture, which has now changed the name of the supercar brand to simply Apollo. The new company opened up a website previewing its next move.
The next chapter is an all-new model, and in the latest teaser we get to see a section of the body. It's uncertain what part of the body we're looking at here, so we're going to guess and say it's a snapshot of the rear end with a roof snorkel leading up the right side.
It also looks like the exhaust, or one of the exhaust pipes is sitting the shadows at about the middle of the image, with potentially the stem of a large rear wing to the left of the image. It all looks very low profile and supercar-like in any case, with two-tone orange and black.
Details on the car are very scarce at this stage, but it's believed it will be a completely bespoke model and not based on the old Gumpert Apollo. It's apparently being codenamed the Arrow. The old Apollo used a twin-turbo V8 belting out as much as 588kW. You can probably guess what sort power the new model will unleash.
More details are expected to be released on Apollo's new website over the coming months, before the official debut on March 1 at Geneva.