Some overseas reviews of the highly-anticipated Kia Stinger are starting to come through. One of the latest, from The Best Lap, shows us how the sports sedan handles and drifts on a skid pan.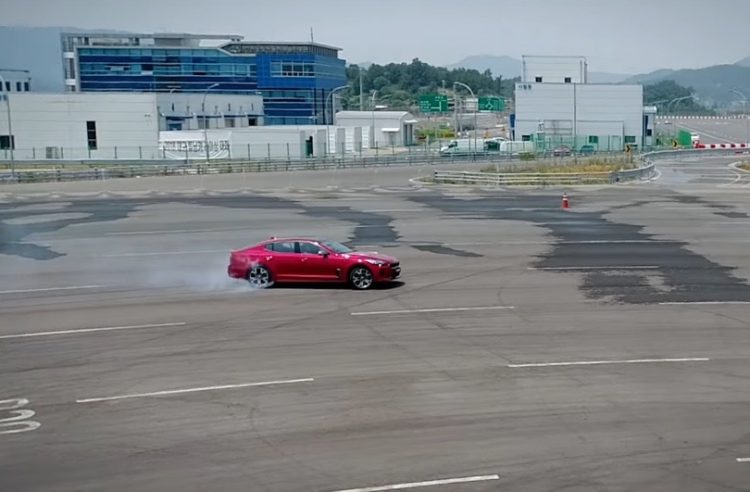 The Kia Stinger will arrive in Australia later this year. And so far it has been extremely well received. In fact, every news report we cover on it normally ends up being one of our most popular articles of the day.
Like us, you're probably keen to see how the car drives in the hands of a proper driving fan. The Best Lap, of Korea, has taken part in an event that put the beast to the test on a skid pan and on the road.
The videos are in Korean but you do get a taste of the performance and engine sound. It looks like the car, at least in 3.3-litre form, will come with a proper limited-slip differential and not an annoying electronic-type brake system like some cars. How do we know? At about the 3:40 point the driver performs some smoke-inducing donuts, with both rear wheels charing the tread.
As we already know, the Stinger flagship will come with a 3.3-litre twin-turbo V6 producing 272kW and 510Nm. Kia claims a 0-100km/h time of 4.9 seconds, putting it on par with some of the more serious premium (and more expensive) rivals from Germany, such as the 240kW 340i (5.1 seconds), the 250kW Jaguar XE S (5.1 seconds), and the 270kW Mercedes-AMG C 43 (4.7 seconds).
Kia Australia is yet to announce local pricing but we get the feeling details will be announced very soon. Check out the videos below to see how it performs. The first video is more of a review and demonstration, while the second video is just a massive drifting demonstration.