Ferrari has been spotted test driving another prototype version of the epic LaFerrari 'FXX' hypercar, this time at the Paul Ricard circuit in France. It showcases a larger wing at the back compared with the one we saw earlier in the year.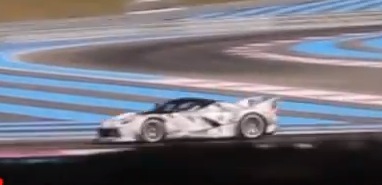 This looks like it is the track-only 'FXX' version which has been rumoured and reported about in the recent past. You can just see the large rear wing in the video, however, the wing will be just one of many aero revisions to help increase downforce and cornering speed for the astonishing hypercar.
The regular LaFerrari is already a mental piece of machinery, equipped with the company's most powerful naturally aspirated production engine ever, paired with a complex hybrid electric assist system.
Overall, the regular model dishes out 708kW. For the track-only version, rumours suggest an output figure of around 772kW (1050hp). With that kind of power on tap 0-100km/h is expected to come up within the 2.0-seconds range.
Aside from the engine output boost, the special LaFerrar FXX –  name yet to be confirmed – is also likely to be stripped out so it's even lighter in weight, further improving track speed and performance, while the interior is set to go for a full racing focus with harnesses and bucket seats.
Ferrari will probably only build around 30 examples of the FXX. If you're interested, you better get in quick, Ferrari has a habit of hand-picking its buyers for exclusive models like this. Click play below for a preview, and a listen to the extraordinary soundtrack.
http://youtu.be/MgMrJ72kkTA