Just a few weeks after announcing the MINI Cooper Paceman, MINI Australia has already announced pricing for the hot new performance version; the MINI JCW Paceman. Like other John Cooper Works models, the compact coupe/SUV is kitted out with various go-fast components.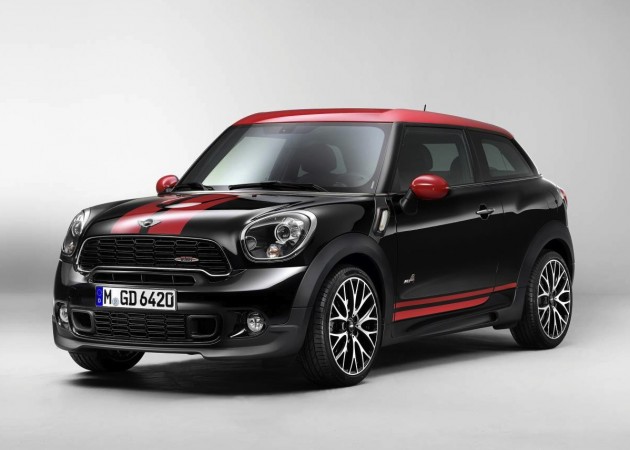 If you're worried the pint-sized SUV is short on power, you need this JCW version. It comes with a potent 1.6-litre turbocharged four-cylinder producing 160kW and up to 300Nm of torque during overboost (short periods of full throttle between 2100 and 4500rpm).
In terms of acceleration performance, the JCW Paceman is able to cover 0-100km/h in 6.9 seconds. The speed is reached in little delay with thanks to a six-speed manual or automatic transmission (no time change) and MINI's ALL4 all-wheel drive system.
The ALL4 unit features a variable centre differential which can split power distribution between the front and rear wheels while on the go, according to the terrain and traction. MINI says,
"In normal driving situations ALL4 diverts a maximum 50 per cent of the engine's power to the rear wheels, rising to as much as 100 per cent in extreme conditions."
As for fuel economy, the manual version consumes an average of 8.1L/100km while the automatic uses a bit more, with a rating of 8.3L/100km.
Bespoke to the JCW edition is a sports suspension system, a barking sports exhaust, a JCW aero kit with front and rear spoilers, 18-inch alloy wheels, various black highlights for that sinister/troublemaker look, and a similarly themed interior with sports bucket seats.
The JCW also comes with a sport button which, when activated, firms up the steering while on the go, tightens up throttle response, and boasts a louder soundtrack from the exhaust. On the automatic versions, gear changes are also made quicker.
The MINI JCW Paceman will officially arrive in Australian dealerships in May, joining the recently introduced regular Cooper Paceman and Cooper S Paceman.
Prices will start at $58,600 (excluding on-road costs).