The Ferrari 458 Spider has made its local debut at the 2012 Australian F1 Grand Prix over the weekend. The stunning drop-top version of the 458 is now available, with prices starting at $590,000.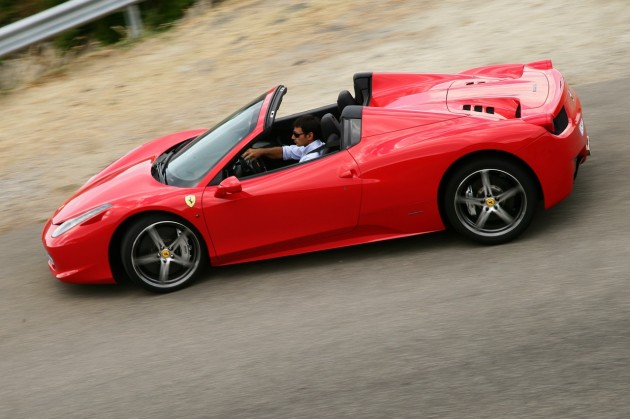 Featuring the same high-revving 4.5-litre V8 as the 458 Italia coupe, the Ferrari 458 Spider produces 425kW of power and 540Nm of torque. It's able to smash 0-100km/h in just 3.4 seconds, and go on to a top speed of 320km/h.
The roof is a new hardtop design by Ferrari, and is 25kg lighter in weight compared with a similar fabric setup, as used on the Ferrari 430 predecessor. It's made from aluminium, and can be folded down in 14 seconds to efficiently stows away with minimal intrusion in space.
Ferrari has honed and developed the roof-down design so that it not only looks gob-smacking, but also so it is aerodynamically sound. The company says that with the roof down, normal conversation can be held without significantly raising voices, even at speeds over 200km/h.
The design also allows for the rear window to be opened while the roof is still up. This gives the passengers a real sensation of the awesome V8 engine sound. The rear window doubles as a wind-stop function when the roof is down.
Like the 458 Italia coupe, the Spider comes with the rest of Ferrari's technological goodies, such as a seven-speed dual-clutch automatic transmission, an E-Diff differential to ensure power is transferred to both rear wheels most effectively, and the F1-Trac traction control with launch control.
Initial orders will arrive during the middle of this year.