The Mercedes-Maybach S-Class is officially being unveiled at the Los Angeles Auto Show today. The launch of this car creates a new sub-brand that "melds the perfection of the Mercedes-Benz S-Class with the exclusivity of Maybach".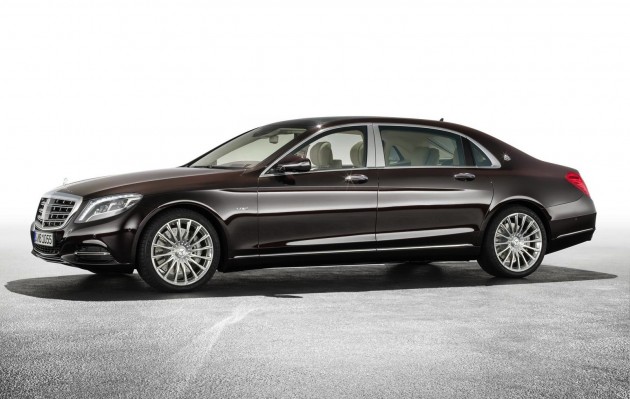 The luxury car will be available in two models; the Mercedes-Maybach S 500 and S 600. It gains 200mm in length over the regular W222 S-Class model and sports subtle details including integrating the third side window into the C-pillar, Maybach badging on the C-pillar, Maybach lettering on the boot, and a redesigned front grille.
Step in the rear of the Mercedes-Maybach and you're greeted with lots of leather and dashes of chrome and wood. Naturally, the rear features extra legroom and a pair of seats that offer "lounge-style, modern luxury". There's voice amplification in the back so that passengers can easily discuss their travels with the chauffeur.
The maximum backrest angle in the rear is 43.5 degrees, and there's also a calf support and an extra cushion for the headrest if you feel like a sleep. The cabin is fitted with special seals to keep noise out, and there's even sealed inertia reels on the seat belts to make sure things remain quiet when buckling up.
Other exclusive interior features include: hand-stitched door trims, fibre-optic cables for ambiance lighting, Maybach perfume as part of the Air-Balance package, two silver-plated champagne flutes, and a high-end Burmester 3D surround sound system.
Keeping the Mercedes-Maybach S-Class slippery is a host of aerodynamic features such as a spoiler lip on rear taillights, speed-dependent lowering of the vehicle by up to 20mm, underbody and engine compartment paneling, sealed headlights, and optimised mirror design. As a result the car has a Cd value of 0.26.
Under the bonnet of the S 500 sits a 4.7-litre twin-turbo V8 that produces 340kW and 700Nm, and is backed up by the new 9G-Tronic nine-speed automatic. The big daddy is the S600, which uses a 6.0-litre twin-turbo V12 that punches out 395kW and 830Nm. The S 600 uses the latest evolution of the 7G-Tronic seven-speed automatic.
Despite producing different power levels, Mercedes says both cars shoot from 0-100km/h in 5.0 seconds and run on to a electronically-limited top speed of 250km/h.
There's currently no word if the Mercedes-Maybach will be offered in Australia.