The 2016 Chevrolet Malibu has been officially revealed at the New York Auto Show in the US. This is set to become the new Holden Malibu and could eventually step in for the Commodore after its departure in 2017.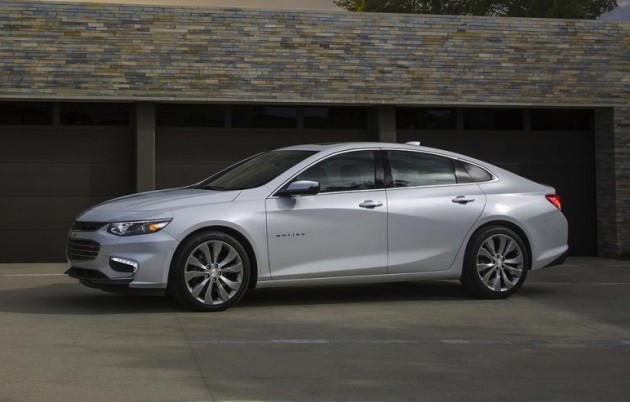 First thing's first, the design. Chevrolet has employed an all-new styling philosophy to the Malibu. There's more defined edges and contours, a sleeker body profile, and a sporty yet sophisticated front end with an integrated spoiler section. It looks quite smart, and even a little bit like a Maserati in the torso.
Compared with the outgoing Chevy Malibu, which is sold in Australia as the Holden Malibu, the 2016 model is 58mm longer overall with 91mm added to the wheelbase. To us, this hints at the possibility of it being at least a candidate for the yet-to-be-confirmed Commodore replacement.
Despite the added length, engineers have managed to shed around 136kg from the car's kerb weight. This is thanks to a stronger yet lighter body structure. There's an increase in the use of higher-strength steels and thinner components in some areas, while maintaining a high level of safety.
Inside, it's a bit more typical GM in its decor. Legroom has been increased though by 33mm, and Chevrolet has fitted a new, protruding 7.0-inch touch-screen interface (8.0 inch for higher-spec variants). It's connected up to OnStar 4G LTE with wireless phone charging. The on-board system also showcases a new feature called Teen Driver which provides audio and visual warnings for speeding and when front passengers aren't wearing seat belts.
In terms of powertrain options, Chevrolet will be offering three different units. Starting the range is a new 1.5-litre turbo Ecotec petrol four-cylinder producing 119kW and 250Nm. It sips 8.7L/100km in the city and 6.3L/100km on the highway.
Next up is a 2.0-litre turbo producing a "GM-estimated" 186kW and 350Nm. It comes matched to a new eight-speed automatic, consuming 10.6L/100km in the city and 7.3L/100km on the highway. Acceleration figures haven't been mentioned, although, 186kW makes it quite a powerful sedan in the segment.
Lastly, there's a new hybrid option. It blends a 1.8-litre direct-injected petrol engine and an electric motor to produce a combined output of 136kW. The electric part consists of an 80-cell 1.5kWh lithium-ion battery which can power the car alone at speeds up to 88km/h.
Holden Australia is yet to make any official confirmation of the Malibu's potential local arrival, however, we get the suspicion the brand is still considering it as a possible replacement to the Commodore. It might also be waiting for the 'Holden' Insignia to pass, which is still based on the current-gen Malibu platform. We'll have to wait and see.