Lexus has revealed the new LF-C2 concept car at the 2014 Los Angeles Auto Show in the US. It previews the next-gen Lexus IS convertible, potentially equipped with a 5.0-litre V8.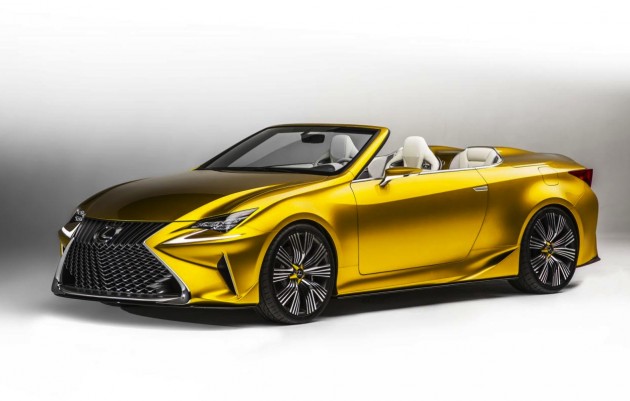 Likely to be called the RC convertible when it hits production, the concept is based on the current RC coupe. It features 2+2 seating inside, while the exterior gets a huge grille at the front in the modern 'spindle' fashion, with unique air intakes and sharp LED headlights.
At the back we get some hints that this is based on the high-performance RC F coupe, with its 5.0-litre naturally aspirated V8 producing 351kW of power and 550Nm of torque. The company hasn't confirmed the powertrain details but if it gets the V8 it would also get the eight-speed sports automatic to go with it.
Lexus doesn't currently off a convertible in the local showroom. In fact, the last drop-top for the local market was the IS 250 C which was based on the previous IS 250 sedan.
The company has a history of putting its concepts into production with minor changes, which means we could soon see a production version of this, which would be ready to take on the likes of the BMW M4 convertible. Jeff Bracken, Lexus group vice president and general manager, hinted future plans, saying,
"The LF-C2 concept shows what's in store for our brand's future design direction. This concept shows consumers around the world Lexus' devotion to emotional designs as well as our passion for an exceptional driving experience."
Other highlights for the LF-C2 include 20-inch alloy wheels, stylish indicator lights, L-shaped taillights, and an impossible-to-miss bright golden yellow multi-layered paint job. It uses a primer coat, silver coat, and a clear coat, with yellow that reflects off the silver.