Featuring a sporty new design and an all-wheel drive option for the first time, the new Audi A3 Cabriolet will go on sale in Australia in June. Prices start from $47,300 for the base model and $54,900 at the high end.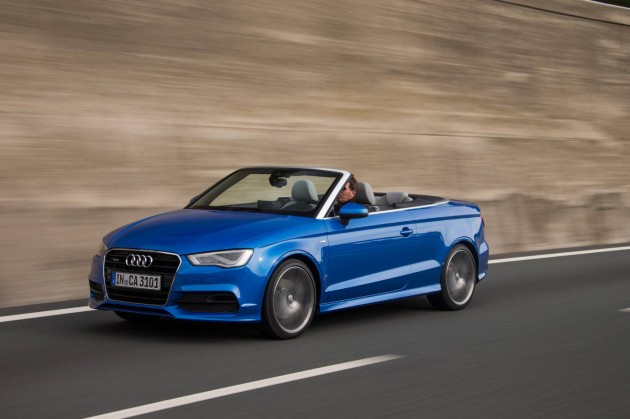 Audi has ditched the previous hatch-like design in favour of a roadster look with the latest Cabriolet.
At the bottom end of the range, the Cabriolet's Attraction model is powered by a 1.4-litre turbocharged engine producing 103kW and 250Nm torque. This option also features cylinder-on-demand fuel saving technology, helping it to achieve 4.9L/100km in fuel consumption.
Stepping up to the Ambition range there are three driveline options, with two sharing Audi's 1.8-litre turbocharged engine. They both make 132kW but the quattro at the top end has 280Nm of torque compared with 250Nm in the front-wheel drive option. The same range also features a 2.0-litre turbo-diesel engine.
A cool new feature that comes as standard across the range is Audi's latest dual-clutch transmission, offering sporty, lightning-quick gear changes.
More details on the local spec Cabriolet will be released closer to its June launch date, but from first glimpse it looks like a stunning car.
Attraction specification level
A3 Cabriolet 1.4 TFSI COD S tronic 103kW/250Nm – $47,300
Ambition specification level
A3 Cabriolet 1.8 TFSI S tronic 132kW/250Nm – $51,900
A3 Cabriolet 2.0 TDI S tronic 110kW/320Nm – $51,900
A3 Cabriolet 1.8 TFSI quattro S tronic 132kW/280Nm – $54,900
(Prices exclude on-road costs)